Struggling farmers urge PM to retain EU subsidies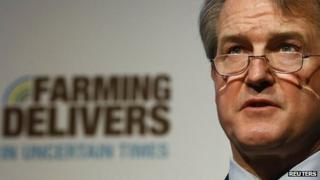 The Farming and Rural Affairs Secretary Owen Paterson is a no-nonsense sort of minister. His profile was certainly raised during the horse meat controversy.
But could his political stock also rise with his handling of another explosive issue: the EU's Common Agricultural Policy and its cash subsidies to farmers.
He wants the EU's direct cash payments to farmers to be scrapped. Many farmers would probably agree with him.
"The market will tell farmers best what the most appropriate food is to grow and what is the appropriate price the market should stand."
That's what he said within days of getting the Defra job in last September's Cabinet reshuffle.
'Distorted market'
The market should decide is the mantra. But what's the reality on the ground? I've been to find out from East Midlands farmers for BBC One's "Sunday Politics" programme.
Let me introduce you to John Charles-Jones, of Woodborough Park farm just north of Nottingham.
He farms 585 acres and grows wheat, oilseed rape and beans. From the EU, John gets £50,000 in single farm payments.
But months of heavy rain have left his hilly farmland waterlogged and financially on difficult ground.
In one of his biggest fields, there is a long gash of a trench caused by the weather.
"It's caused by the sheer volume of water that's come off the fields over this winter," he told me.
John jumped into the trench to illustrate its depth. It came up to his armpits.
"It makes it very difficult for us to sow or get our machines onto the fields to fertilise or spray," he added.
The flood waters that swept into nearby villages last year may have gone, but the record rain fall continues to have a big impact.
Much of the farm land is still too wet to grow crops. EU cash support through the single farm payment is now keeping John and many other farmers just about on financial dry land.
"If our single farm payment of £50,000 was taken away, our average income over the last seven years would be slightly less than £20,000 per year," he said.
So how is he able to make his business work on that?
"With great difficulty," he told me.
"Take the single farm payment away and either food prices will rise significantly or we will have to diversify and away from food production."
The EU's agriculture budget now tops £50bn a year.
Seventy per cent of that goes to farmers, and 200,000 UK farmers get those direct payments - that's worth £3.3bn.
Downing Street and Defra's Owen Paterson say that's just too expensive. The message to farmers: EU farm subsidies distort the market.
Charles Sercombe knows a thing or two about distorted markets.
His farm at Frisby-on-the-Wreake in Leicestershire covers 200 acres.
He's got 2,000 sheep and 70 dairy cows. His EU single payment is £18,000 pa.
For meat producers, the weather, disease and tumbling prices have made it a tough year.
"The drive by supermarkets for cheap, low prices creates a problem for the market place. We are having to produce more for less," he said.
"The price of lamb has collapsed. It's 25% less than it was a year ago. And without the EU's single farm payment, it would have made this business very difficult to keep going."
The government wants to scrap the current system of EU farm subsidies by taking the money out of food production to fund projects that sustain the rural environment.
The issue now is the knock-on for food prices and the future of Britain's farming industry.
"Many sheep farmers, especially those on the uplands and in the Peak District, have struggled with rising input costs and poor weather," he added.
In the past month, Charles has been getting £67 for each of his lambs sold under the auctioneer's hammer. That's slightly better than it has been. But he is still losing £20 per head on the sale.
"With the fall in sheep prices, I fear it will drive confidence out of our industry. The present situation isn't sustainable."
For both Charles Sercombe and John Charles-Jones, farming is their livelihood. But their future - without the EU payments - is far from clear.