Councils use £35.5m repair fund for demolition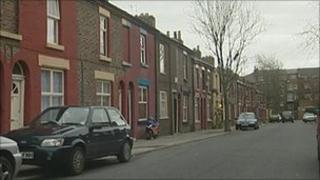 Local authorities in England are using government money to knock down housing despite being told it is unlawful.
Widespread clearances were supposed to stop when the coalition ended Labour's Pathfinder regeneration scheme in 2011.
But BBC Radio 4's You and Yours has found councils are using a £35.5m fund intended for building repairs to carry out demolitions.
The government said it was working to bring many properties earmarked for destruction back into use.
In 2011 the then housing minister Grant Shapps announced the end of the £1bn Pathfinder Housing Market Renewal scheme, saying it was "leaving families in abandoned streets".
A "transitional fund" was made available to promote regeneration without the need for widespread demolition.
'Further action'
Thirteen councils made successful bids for the money, but the campaign group Save Britain's Heritage argued that houses were still being knocked down using the money and called for a judicial review.
The review heard it was "unlawful" for the refurbishment funds to be spent on widespread demolition - and the government has conceded it should not have happened.
At the review, in September last year, the Department for Communities and Local Government (DCLG) accepted that, when bids for the money had come in, Mr Shapps had not noticed or had not realised that councils had included details of demolition plans in their applications.
Nine authorities have continued with their demolition programmes, saying the government's oversight was not their fault.
Two did not include demolition plans in their bids, while two others are involved in ongoing legal action.
The authorities continuing to use the money for demolitions are; Pendle Borough Council, Hyndburn Borough Council, Blackburn & Darwen Borough Council, Redcar and Cleveland, Stoke-on-Trent, Hartlepool, Middlesbrough, Hull and Liverpool.
Clem Cecil, director of Save Britain's Heritage, warned that its legal campaign would continue if attempts were not made to claw the money back from councils.
"If the government are just going to say that was unlawful and not take it any further then we're going to be forced to take further legal action," she said.
A spokeswoman for DCLG said, "This government has cancelled Labour's controversial Pathfinder scheme, which created large-scale Whitehall targets for demolition and clearance across the midlands and the north of England.
"Instead, we have introduced a series of initiatives to get empty homes back into use.
"We are currently in legal discussions with Save Britain's Heritage. However, part of these discussions, which include empty homes expert George Clark, involves a scheme which will see empty properties, many originally set for demolition under Pathfinder, brought back into use over the next three years."