Prison cuts may see reoffending rise, say MPs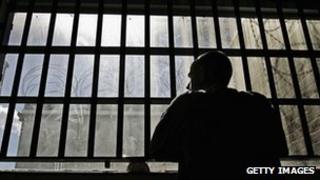 Cuts to prison management services could lead to a rise in reoffending, an influential group of MPs has said.
The MPs said staff cuts by the National Offender Management Service (NOMS) could result in less training and rehabilitation - which have been shown to reduce reoffending rates.
The Public Accounts Committee praised NOMS for saving £230m last year, but warned further cuts may be difficult.
Ministers said their plans would stop the "revolving door of reoffending".
NOMS, which manages 117 public prisons in England and Wales and the contracts of 14 private prisons, is responsible for a prisoner population of around 86,000. It is having to make cuts of £650m to its £3.4bn budget by 2015.
'Safety and decency'
As part of this, the agency is expected to reduce staff numbers through redundancy.
But Labour MP Margaret Hodge, who chairs the committee, raised concerns about how staff cutbacks might have an impact on the level of rehabilitation which prisoners receive.
She said: "There is a risk that reduced (staff) numbers will result in staff being taken off offender management programmes to cover duty on prison wings.
"This means that training and rehabilitation activities could suffer, even though we know these reduce reoffending after release.
"The agency needs to seriously consider the long-term consequences of short term cuts."
The committee warned that staff reductions were already having an impact on "safety and decency in prisons" and that prison overcrowding had become "institutionalised".
"Assaults on staff, self-harm and escapes from contractor escorts have all increased, and more prisoners are reporting that they don't feel safe," the MPs said.
The committee also raised concerns about whether the agency would be able to meet its savings targets in future years.
In evidence to the committee, NOMS said savings would be found as older, expensive prisons were replaced by modern, cheaper facilities.
'Value for money'
But the MPs on the committee said this was based on the assumption that overall prisoner numbers would not increase from the current level, and concluded that a rethink of prison policy was needed.
The current strategy depends on the prison population remaining stable, but this is something over which it NOMS has no control, Mrs Hodge said.
"It also depends on making significant numbers of staff redundant, but the agency doesn't yet have the resources to fund the redundancy payments required," she added.
Responding to the report, Justice Secretary Chris Grayling said: "Running prisons that are safe, decent and secure is a priority.
"We will continue to drive down running costs by replacing old prison accommodation with new places that are better value for money and provide better opportunities to reduce reoffending.
"NOMS will meet its savings target for 2012/13 of £246m while maintaining its overall performance.
"Our transforming rehabilitation proposals will change the way we deal with offenders on release and help us to stop the depressing revolving door of reoffending."