Nick Clegg's son to go to London Oratory Catholic school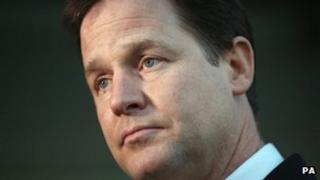 Nick Clegg is to send his eldest son to a Catholic state school in London where two of former prime minister Tony Blair's children were educated.
The deputy prime minister confirmed his 11-year old son Antonio will start at the London Oratory school in September.
London Oratory was a grammar school until the 1970s and only ended selection interviews in 2006.
The Lib Dem leader had previously not ruled out educating his children at fee-paying schools.
"Now that their decision has been made public, they hope that the privacy of their son will be respected," a party spokesman said.
The school is celebrating its 150th anniversary, having been founded by the Fathers of the London Oratory in 1863.
'Church principles'
It is popular with politicians from all parties, former Labour Cabinet ministers Harriet Harman and Ruth Kelly also having sent their sons there.
The school won a legal battle in 2004 to maintain its ability to interview prospective pupils and their parents, saying this enabled the school to check a family's religious commitment. But this was dropped after a change in the rules in 2006.
Mr Clegg's wife, Miriam, is a Roman Catholic and his children have been brought up as Catholics. Mr Clegg has described himself as an atheist.
When he became Lib Dem leader In 2007, he said he was "not an active believer" but had enormous respect for those who were.
In its last Ofsted report, in 2009, London Oratory was judged to be outstanding overall.
According to its website, the school aims to "assist Catholic parents in fulfilling their obligation to educate their children in accordance with the principles and teachings of the Church".
The school, which became an academy in 2011, admits 160 boys from across London to its senior school each year, with priority given to practising Catholics.
In the event of places being over-subscribed, the school takes a variety of factors into account including observance of Sunday Mass, whether the candidate has received his first Holy Communion and the extent to which the applicant fulfils the Church's requirements regarding baptism.
In 2009, Lib Dem activists voted in favour of allowing state-funded faith schools to continue selecting pupils by faith despite opposition from some senior figures. But the party called for schools unable to demonstrate a commitment to inclusiveness in their intake to have their funding cut.