Eastleigh by-election: Miliband says Labour 'can do better' after fourth place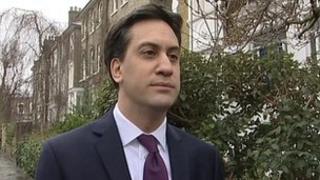 Ed Miliband has said he would have liked Labour to have done better in Eastleigh, after it finished fourth and saw only a small rise in its vote.
The Labour leader said the by-election was always going to be "tough" as the party had never won the seat before.
He said it must "redouble its effort" to appeal to voters who were not traditional supporters.
But Labour MP Austin Mitchell said the result, which saw Labour get just under 10% of the vote, was a "disaster".
Mr Miliband has said there must be no "no-go areas" for his party and it must make inroads in the south of England, where it won a swathe of seats in 1997 and 2001, if it is to return to government.
Labour won more than 20% of the vote in Eastleigh in the 2001 and 2005 elections.
But this time around, the party's candidate John O'Farrell polled just over 4,000 votes, or 9.8%, a 0.2 percentage points increase on the party's tally in the 2010 election.
'Nothing to fear'
Mr Miliband said the party had never come close to winning Eastleigh before, even in 1997 when it won a landslide general election victory, and the campaign was always going to be a challenge.
"Clearly I would have preferred to get more votes but this was always going to be a tough fight for Labour," he said. "All it convinces me of is we need to redouble our efforts to reach out to every part of the country, including areas where Labour has traditionally not been strong."
Mr Miliband rejected suggestions the result was a major setback to his plan to make Labour a One Nation party but he said his strategy of seeking to broaden its appeal was the correct one.
"We need to build an organisation and build support in areas where we haven't traditionally had support and it is harder to do that in a three-week campaign," he added.
After the UK Independence Party leapfrogged both Labour and the Conservatives to finish second, Mr Mitchell said the result showed Labour needed more of a "nationalist appeal".
The veteran MP, one of those in the party calling for a referendum on the UK's membership of the EU, added: "The nation is being betrayed, weakened and sold down river. We should say so."
Shadow minister Diane Abbott acknowledged Labour had been "squeezed" by UKIP but said she did not see the party as a real threat at the next election.
"I don't think we have anything to fear from UKIP," she told the BBC. "It is not a problem for Labour." However, she said UKIP's performance should not be allowed to tilt the "centre of gravity" to the right on issues such as immigration.