Voting nearing an end in Eastleigh by-election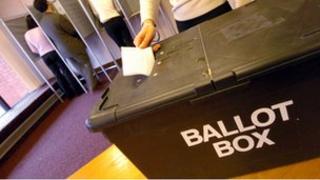 The voters of Eastleigh are choosing a new MP in a by-election prompted by the resignation of former Lib Dem cabinet minister Chris Huhne.
Polling will continue until 22:00 GMT, with votes to be counted overnight on Thursday.
There are 14 candidates in total on the ballot papers.
Ahead of polling day, Eastleigh Council told the BBC it had issued 14,276 postal votes and that 9,485, or 66.4%, had been returned by Tuesday.
The total electorate for the constituency is 79,004.
From the constituency's creation in 1955 until 1994, Eastleigh was represented by the Conservatives. It has been held by the Lib Dems since.
This will be only the fifth occasion since the 1945 general election when the Lib Dems, or their predecessors the Liberals, have defended a parliamentary seat in a by-election.
There have been 12 by-elections in England and Scotland since the start of the current Parliament - Oldham and Saddleworth, Barnsley Central, Leicester South, Inverclyde, Feltham and Heston, Bradford West, Corby, Manchester Central, Cardiff South and Penarth, Rotherham, Middlesbrough and Croydon North.
The list of candidates in alphabetical order is:
COLIN BEX - Wessex regionalists
DAVID BISHOP - Elvis Loves Pets Party
JIM DUGGAN - Peace Party
RAY HALL - Beer, Baccy and Crumpet Party
HOWLING LAUD HOPE - Monster Raving Loony William Hill Party
MARIA HUTCHINGS - Conservative
DIANE JAMES - UK Independence Party
DR IAIN MACLENNAN - National Health Action Party
KEVIN MILBURN - Christian Party "Proclaiming Christ's Lordship"
JOHN O'FARRELL - Labour
DARREN PROCTER - Trade Unionist and Socialist Coalition
DANNY STUPPLE - Independent
MIKE THORNTON - Liberal Democrats
MICHAEL WALTERS - The English Democrats - "Putting England First!"