National Security Council 'neglecting central questions', MPs and peers say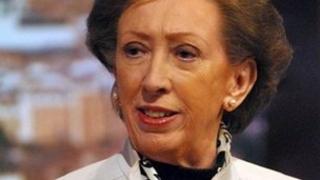 The government has been accused of neglecting the "strategic and security uncertainties" caused by PM David Cameron's proposal to hold a referendum on the UK's membership of the EU.
A committee of MPs and peers said the issue should have been referred to the National Security Council (NSC).
The Joint Committee on National Security Strategy said the NSC had failed to scrutinise a number of "very central and uncomfortable questions".
A spokesman defended the NSC's work.
Chaired by the prime minister, the National Security Council is tasked with coordinating responses to security threats and integrating the work of various relevant government departments.
But the committee said it was concerned the council appeared to have "focused on operational matters and short-term imperatives, rather than long-term strategy".
It said there had been limited discussion of the eurozone crisis, the planned referendum on Scottish independence and the "significance of the US pivot" towards the Asia-Pacific region.
The committee also said it had seen no evidence that the NSC had considered the strategic implications of the Ministry of Defence's plans to cut the numbers of regular troops in the Army while increasing its reliance on reservists.
Committee chair and former Labour Foreign Secretary Margaret Beckett said: "The government seems to see the National Security Council primarily as a forum for discussing foreign policy and operations overseas, squeezing in a few other topics if there is time.
"We were stunned that the NSC had not discussed the implications of the major policy changes made last year by the MoD. How it can be strategic if it has not considered the impact of restructuring the Army?"
But a Cabinet Office spokesman said: "In an age of uncertainty both here at home and overseas, as well as looking at long term strategic decisions it is also right that the NSC must be prepared to react to developing situations.
"The NSC brings government and Whitehall together to deliver our domestic, foreign policy and security priorities in a coordinated and coherent way - including consideration of future military capability through the Strategic Defence and Security Review process for which the NSC is responsible."