David Cameron urges 'further and faster' deficit cut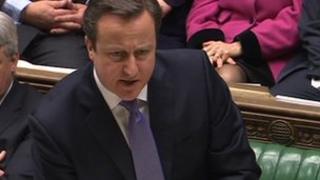 David Cameron has said the government needs to go "further and faster" on cutting the deficit, following the UK's loss of its AAA credit rating.
In his first comment since Friday's downgrade, Mr Cameron told MPs it was "a reminder of the debt and the deficit problem" which the UK faces.
But Downing Street insisted he was not signalling fresh spending cuts.
Ed Miliband said the downgrade was a "humiliation" for the PM, adding that his economic policy had failed.
Ratings agency Moody's cut the UK's top rate to Aa1 last Friday.
It said expectations were that growth would "remain sluggish" over the next few years and the government's debt reduction programme faced significant "challenges".
'Downgraded prime minister'
During Prime Minister's Questions, the Labour leader accused the prime minister of not living up to his promise in the Conservative Party manifesto to "safeguard Britain's credit rating", saying he had "failed in the first test he set himself".
"It's not just our credit rating that's been downgraded, we have a downgraded government, a downgraded chancellor and a downgraded prime minister," he added.
But Mr Cameron defended the government's economic record, saying unemployment was down and business backed the government's "plan for growth".
He insisted Britain's credit rating mattered because "it demonstrates that we have to go further and faster on reducing the deficit".
"It is this government who have cut the deficit by a quarter, who have a million extra private sector jobs and who have low interest rates that are vital for the future of the economy," he argued.
"The decision of the ratings agency is a reminder of the debt and the deficit problem that this country faces and, frankly, it is a warning to anyone who thinks we can walk away from it.
"It is absolutely vital that we continue with the work of this government that has cut the deficit by a quarter, that has a million extra private sector jobs and has interest rates at record low levels."
He said it was Mr Miliband's policy "to address excessive borrowing by borrowing more".
Mr Cameron's official spokesman played down the significance of the remarks, insisting that the prime minister was merely restating the chancellor's previous announcements that his austerity programme has been extended from 2015 to 2018.
"We have been clear at previous fiscal events that the period of fiscal consolidation has been extended," said the spokesman. "That's what the prime minister was referring to."