Eastleigh by-election campaign in final stages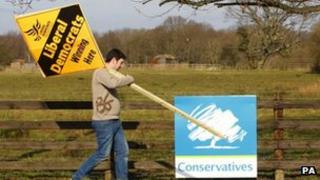 Campaigning in the Eastleigh by-election is in its final hours, with all parties making one last push for votes.
Deputy Prime Minister Nick Clegg has said it is a "two-horse race" between the Lib Dems and the Conservatives.
The Tory candidate said she would help "get the country back on its feet".
The Labour candidate said his party had been "re-invigorated" by the campaign, and UKIP leader Nigel Farage predicted a "big" swing to his party.
Voters go to the polls on Thursday, with a choice of 14 candidates.
Eastleigh Council told the BBC it had issued 14,276 postal votes and that 9,485, or 66.4%, had been returned by Tuesday.
The overall electorate figure for the by-election is 79,004.
Speaking at Prime Minister's Questions, David Cameron urged Tory MPs to head to the constituency to support their candidate Maria Hutchings.
Mr Clegg, who is visiting the Hampshire town on Wednesday, said there were "very clear" differences between the policies of the Lib Dems - who control Eastleigh council - and the Conservatives.
"On all of these counts, delivering jobs, increasing the number of apprenticeships, delivering fairer taxes, lower council tax, fairer income tax and protecting green spaces I think everybody accepts in Eastleigh that it's the Liberal Democrats who've got the record of action," he said during a phone-in on LBC.
Mr Farage, the leader of the UK Independence Party, said his candidate was "coming up on the rails", partly because people had "made the connection" between EU membership and "open-door immigration".
"If you gave me evens on us gaining more than 20% in this by-election I would have a very big bet. This is the campaign that has got momentum."
Mr O'Farrell said Mr Clegg was right to believe it was a "two-horse race", but wrong to think the coalition parties were the only ones with a chance of winning, he said. In fact, the contest was "between Labour and the coalition", he argued.
Senior Conservative MP David Davis said that if his party finished third in the by-election, it would create a "crisis" for David Cameron. Speaking on BBC Two's Daily Politics, he warned that even coming second "with UKIP on our tail" would make things "uncomfortable" for the prime minister.
Chris Huhne resigned as Eastleigh's MP earlier this month after pleading guilty to perverting the course of justice over claims his former wife took speeding points for him.
The list of candidates in alphabetical order is:
COLIN BEX - Wessex regionalists
DAVID BISHOP - Elvis Loves Pets Party
JIM DUGGAN - Peace Party
RAY HALL - Beer, Baccy and Crumpet Party
HOWLING LAUD HOPE - Monster Raving Loony William Hill Party
MARIA HUTCHINGS - Conservative
DIANE JAMES - UK Independence Party
DR IAIN MACLENNAN - National Health Action Party
KEVIN MILBURN - Christian Party "Proclaiming Christ's Lordship"
JOHN O'FARRELL - Labour
DARREN PROCTER - Trade Unionist and Socialist Coalition
DANNY STUPPLE - Independent
MIKE THORNTON - Liberal Democrats
MICHAEL WALTERS - The English Democrats - "Putting England First!"