Eastleigh by-election: Tory 'to fight for what counts'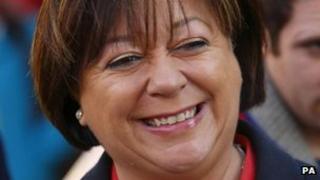 The people of Eastleigh should vote Conservative in Thursday's by-election to help "get the country back on its feet", the party's candidate has said.
Maria Hutchings told the BBC the Tories had the best plans on immigration, Europe and cutting the deficit.
She promised to keep "fighting for the things" Eastleigh needed even if she did not win the parliamentary seat.
There are 14 candidates for the by-election, which follows the resignation of Lib Dem MP Chris Huhne.
Speaking to the BBC News Channel's chief political correspondent, Norman Smith, Mrs Hutchings said the Conservatives could win the contest,
She added: "People are really concerned about jobs, paying their mortgage, filling their car with petrol. I'm talking to them about the good news story we've got on that, on immigration, on a European referendum, and I'm going out to get every single vote."
'Trust'
Mrs Hutchings, who came second to Mr Huhne in Eastleigh at the 2010 general election, said: "It's a very important by-election. However it turns out [on Thursday], I've been here for five years solidly.
"I didn't walk away after the general election. I carried on working with local residents and, whatever the situation had been, I would have fought ferociously for every vote because I really do believe that Eastleigh deserve an MP they can trust, somebody who actually understands the area, who's lived here, who's fought for them and I desperately want to prove I can do that."
She added: "Let me get through this week, I don't know what's going to happen but whatever happens I will be here fighting for things that you need, because that's what I do."
Some political rivals have criticised Ms Hutchings for missing a BBC Radio 5live by-election debate last week, instead preparing for a visit to a factory.
But Mrs Hutchings, a mother-of-four, denied avoiding the discussion, saying: "They've all said I'm a woman who speaks her mind and I'll say it as it is. If people ask me a question on the doorstep, or journalists, I will give an answer."
She criticised her main rivals in the by-election, telling the BBC: "A vote for UKIP here is going to get a Liberal Democrat through the back door, a Liberal Democrat who believes in an amnesty for 600,000 illegal immigrants, who believes in free movement in immigration."
Mrs Hutchings added: "We need a party in government that's going to tackle what the people of Eastleigh care about more."
"People in Eastleigh want a party in government that's going to get this country back on its feet. That's the overriding issue here and the only party that can do that is the Conservatives."
The list of candidates in alphabetical order is:
COLIN BEX - Wessex regionalists
DAVID BISHOP - Elvis Loves Pets Party
JIM DUGGAN - Peace Party
RAY HALL - Beer, Baccy and Crumpet Party
HOWLING LAUD HOPE - Monster Raving Loony William Hill Party
MARIA HUTCHINGS - Conservative
DIANE JAMES - UK Independence Party
DR IAIN MACLENNAN - National Health Action Party
KEVIN MILBURN - Christian Party "Proclaiming Christ's Lordship"
JOHN O'FARRELL - Labour
DARREN PROCTER - Trade Unionist and Socialist Coalition
DANNY STUPPLE - Independent
MIKE THORNTON - Liberal Democrats
MICHAEL WALTERS - The English Democrats - "Putting England First!"