Labour to examine opportunities for older women in public life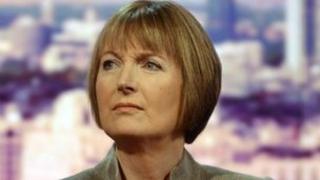 Labour says action needs to be taken to find out why women often "disappear" from public life in their 50s.
The party's deputy leader Harriet Harman is launching an "audit" of older women's experiences in broadcasting, the media, business and other areas.
She said it was unacceptable that women in television and other fields who were entering their 50s felt they were on "borrowed time" in their careers.
Ministers recently urged companies to do more to get women on their boards.
Labour's Commission on Older Women will publish its findings later this year.
'Equal to men'
Ms Harman told the BBC that women in their 50s and 60s now were in better health and had different expectations than those of previous generations.
They regarded themselves as "equal to men" but their opportunities seemed to diminish once they reached a certain age, she said.
"In public life, that is very evident, including in broadcasting," she told the BBC's Andrew Marr Show.
"It is very welcome you see so many young women blazing a trail coming forward, but they kind of disappear out of sight as soon as they reach their 50s, let alone their 60s," she added.
"We don't think that is acceptable. It wastes a lot of talent and expertise. It is discriminatory and women are not going to put up with it."
While male presenters entering their 50s could look forward to two more decades in the business, she said, women of a similar age felt they were "on borrowed time and that is just not right - it is a combination of age and sex discrimination".
Ms Harman has also written to a number of leading broadcasters about the issue.
'Continued drift'
It comes ahead of the publication of new research on Monday which suggests that women's access to power and representation in politics in the UK is declining in relation to many other countries.
The Counting Women In coalition, which campaigns for equal representation of men and women in national and local government, said its report showed "continued drift" was inevitable without targeted action - including more women being selected in winnable seats.
Last month, Business Secretary Vince Cable wrote to FTSE 100 companies without a woman on their board of directors to urge them to take action to widen their representation, arguing it made sound commercial sense.
Ministers have urged the UK's 350 largest public companies to set targets against which progress in boosting female representation on boards and executive committees can be judged, but have rejected calls for quotas.