Labour urges councils to rename streets after war heroes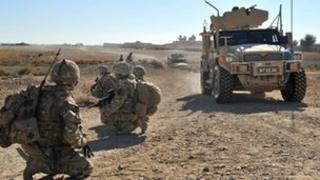 Labour is calling on councils to rename streets after members of the armed forces who have been killed on duty.
The party says it would be a "lasting personal memorial" to personnel who have lost their lives in Afghanistan and elsewhere.
London's Barking and Dagenham council has already renamed two streets after local soldiers killed in Afghanistan.
Ministers said they supported "any ideas that pay tribute to our fallen heroes".
Shadow defence secretary Jim Murphy said: "Those who have been lost will always be remembered and loved by their families.
"Street naming will be a chance for their names to live publicly and forever."
'Brave service'
In a letter to all councils, Mr Murphy and shadow communities and local government secretary Hilary Benn urged local authorities to adopt the policy.
Labour wants councils to approach bereaved families living locally to see if they would like a street to be renamed after their loved one.
In consultation with the family, the location and precise name of a road or street would be decided on, with people living in the street also consulted.
An official opening ceremony, organised by the council, could then be arranged.
Mr Benn, said: "Barking and Dagenham Council have found a visible and enduring way for their local community to honour the memory of residents that have fallen in the brave service of our nation.
"Naming streets is one of the many ways that local authorities can support our service community and pay tribute to those that have made the greatest sacrifice."
In 2011, Barking and Dagenham renamed a road after Private Tony Rawson, who was killed in Helmand province in Afghanistan in 2007.
Last year a new street of council houses in the borough was named Martin Kinggett Gardens after Rifleman Kinggett, who was killed in Afghanistan in 2010.
Local government minister Brandon Lewis said: "As a nation, it is right to honour our brave servicemen and women given the debt of gratitude we owe them. The government support any ideas that pay tribute to our fallen heroes.
"Councils have the power to change street names and honour local armed forces personnel in this way. Councils may also want to consider installing formal war memorials or updating existing memorials."