MPs urge swifter response over anti-social behaviour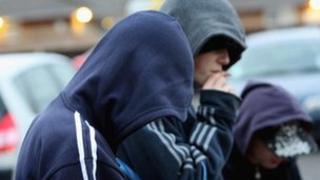 Victims of anti-social behaviour should be guaranteed a response from the authorities if they have complained more than five times, an influential group of MPs has said.
The Home Affairs Committee said how victims were dealt with shouldn't be dependent on where they live.
They also recommended naming agencies that failed to meet the target.
Ministers said new government measures would make it "easier and quicker" for agencies to protect victims.
The committee was reviewing the government's draft Anti-Social Behaviour Bill, which is part of government plans to put victims in the "driving seat".
Around 2.4m incidents of anti-social behaviour were recorded by the police in England and Wales for the year to September.
'Breed criminality'
If the bill is passed, victims of anti-social behaviour will be able to choose the punishment for offenders under government plans.
It would also establish a "community trigger" - a new tool that would give victims the right to demand that agencies take action, the threshold of which would be set locally.
The government hopes this would help stop cases like Fiona Pilkington who killed herself and her daughter in 2007 after repeated complaints to police about harassment by youths.
But the MPs found that while it was helpful to have some local flexibility in how the trigger was activated, a national maximum of vie complaints would provide a "backstop" for victims.
Committee chair Keith Vaz said: "Anti-social behaviour is not something trivial that can be ignored - it can crush lives and breed criminality in our communities.
"The community trigger is meant to be the last line of defence to protect the public from anti-social behaviour. No one should have to complain more than five times before they see action."
Mr Vaz said the committee welcomed the government's work to speed up action against anti-social behaviour but a "powerful trigger" was needed to tackle persistent abuse.
Pilots of the community trigger have been taking place in Brighton, West Lindsey, Boston, Richmond Housing, and Manchester - but Labour said the results had not been encouraging
Based on data released under the Freedom of Information Act, there were 23,648 recorded incidents of anti-social behaviour in Manchester between June and October last year, but the community trigger was successfully activated just three times during that period, Labour said.
Shadow home office minister Gloria de Piero said: "Too many people are still waiting too long for their anti-social behaviour complaints to be dealt with.
"The home secretary's proposed community trigger is not the answer.
"Recommending that people have to wait until five complaints have been made before agencies have to act does not reflect the misery that can be caused by anti-social behaviour."
'Naming and shaming'
Crime prevention minister Jeremy Browne said: "The community trigger is intended to be a safety net for the public if police and local authorities do not take action, not the first response when a problem occurs.
"It is one of a range of new measures which will make it easier and quicker for agencies to protect victims and communities from the blight of anti-social behaviour."
The committee also recommended a new national anti-social behaviour forum, headed by a chief constable, housing association chief executive and local council leader.
The forum would help improve inter-agency working, that is communication between police, councils, housing associations and mental health authorities.
To the consternation of some charities, MPs said they were happy to leave the decision not to name a young person subjected to an anti-social behaviour order to the discretion of judges.
The Standing Committee for Youth Justice (SCYJ), a body whose members include Barnardo's, The Children's Society and Prison Reform Trust, said it was "disappointed" the committee did not "oppose the naming and shaming of teenagers subject to anti-social behaviour orders".