Brooks Newmark reveals eating disorder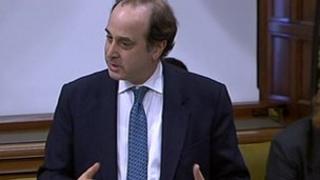 Conservative MP for Braintree, Brooks Newmark, has revealed he had an eating disorder at the age of 17.
He said it developed while he was at boarding school when he felt under "enormous pressure".
There were "many issues" which caused him to stop eating and his weight had "plummeted", he added.
Mr Newmark said he chose to speak out because it was important for those in high-profile roles to share their experiences.
Speaking in a debate in Westminster Hall, Mr Newmark said his fellow Conservative MP Caroline Nokes had persuaded him to talk about his eating disorder.
He said he received no support from his school and was teased by his fellow students.
"Boarding schools in the 70s weren't exactly sympathetic to young boys who had problems," he added.
"I felt, for whatever reason, under enormous pressure and my weight did plummet - it plummeted to eight stone (51kg) and I didn't know what was happening.
"All I do know is that I just couldn't eat."
'Healing mind'
Mr Newmark said that leaving the UK for the US, where he studied at Harvard University, had helped him to overcome his condition because it gave him self-confidence.
"Sometimes I think it is helpful that people out there know that there is life after going through something like this - there is life after anorexia," he said.
The experience had made him realise that "unless the mind is healed, you're never going to heal the body", he added.
He said GPs were still not "up to speed" on identifying eating disorders and that teachers and parents needed better education on spotting symptoms.
"There are no short-term fixes with this. This is an individual thing that needs long-term help - there is no timeline," he said.
"Mental healthcare is the orphan when it comes to healthcare in this country and there are many forms of mental illness, but this is a mental health issue."
Health minister Norman Lamb said the government was committed to providing quality mental health services and was taking steps to improve support for those with eating disorders.
"Sufferers have asked us to listen. My message to them is that we are listening," he said.