Social care cap 'to be set at £75,000'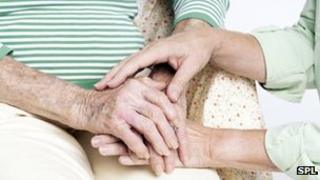 Elderly people in England will not have to pay more than £75,000 for long-term social care after 2017, the health secretary is expected to say on Monday.
The state would pay the cost of any care above that figure, which does not include food and accommodation costs.
The figure is much higher than that recommended by the Dilnot report, which said any cap should be set at £35,000.
The BBC also understands the threshold for means-tested support will rise from £23,000 to £110,000.
Reform of social care has been the objective of successive governments but only limited changes have taken place and cross-party talks broke down.
Full details of the agreement are set to be revealed in Health Secretary Jeremy Hunt's statement to the Commons.
The £75,000 cap is thought to only cover the cost of care, bought at local authority prices.
Paul Lewis, from BBC Radio 4's Moneybox programme, said other associated costs, such as board and lodging or hotel fees, would mean individuals paying far more in real terms, before the cap is applied.
'Bedevilled for decades'
BBC political correspondent Tim Reid said there was some speculation plans to abolish the second state pension would provide the chancellor with funds to cover the costs.
A source close to Mr Hunt said: "This is a problem that has bedevilled governments for decades. The spiralling costs of social care and people being saddled with costs and having to sell their homes.
"The coalition felt that this was an important decision that needed to be made and we thought long and hard about how to do it and pay for it. And we believe this is a viable solution."
The BBC understands the health secretary fought off attempts by the Treasury to have the bill for the scheme paid for from his department's budget.
Economist Andrew Dilnot was commissioned by the coalition government in 2010 to examine options for overhauling the social care system.
Mr Hunt is quoted in the Daily Telegraph as saying the lower cap, recommended by Mr Dilnot, would "not be credible" in the current economic climate.
"We're in a period where we have a huge deficit and the over-riding national priority for all of us when we become pensioners is actually to get the national debt under control.
"So it's not helping anyone to announce a generous cap by increasing the national debt. We need to have some realism, the important thing is that we have a cap."
The health secretary added that he would expect pension and insurance companies to offer new products "where people save for their social care just as they save for their pension".
Currently people with savings and capital of more than £23,250 have to pay for care costs. Those with assets of between £14,250 and £23,250 have these taken into account when their contribution is assessed. Below £14,250, only a person's income is considered.
It is expected Mr Hunt will announce a new means-testing threshold of about £110,000, 10% higher than the figure recommended by the Dilnot Commission although lower than the figure demanded by campaigners.
They say, despite the changes, many people will still have to sell their homes to pay for care under a £75,000 cap and £110,000 threshold arrangement.
Michelle Mitchell, charity director general at Age UK, said she was "encouraged" that the social care funding issue "appears to be emerging... from the long grass".
She added: "If... the government is about to announce that lifetime contributions to care will be capped, then this could, if the level is not set too high, represent a real step forward in giving older people and their families peace of mind.
"We hope that the government is compassionate and brave in its quest to balance affordability in the current economic climate with a fair deal for those forced to pay high care costs."
The Alzheimer's Society said that a large rise in the capital threshold could take thousands of people "out of the firing line" for huge costs.
But commenting on the cap, it added: "A £75,000 cap is so high that it would only help 'the few'.
'Rude shock'
"It is vital that government also looks at the huge underfunding of the system."
Stephen Burke, director of United for All Ages, was more critical of the government plan, saying families "will be in for a rude shock".
"The government is sneakily shifting the cost of care further and further onto older people and their families," he insisted.
Mr Burke added that there were "fairer and better alternatives" to the scheme, including raising the capital threshold to at least £200,000 or higher.
In Scotland personal care is free for those over the age of 65 who have been assessed by the local authority as needing it.
People who live at home are not charged for personal care services, while those paying their own way in care homes get more than £200 a week to cover personal and nursing care.
While Holyrood says it is fully committed to the funding of free personal care, figures published last year showed the cost of providing it had risen by more than 150% since 2005.
In Wales, a weekly maximum of £50 is charged to all those using non-residential social services;.
The Welsh government has pledged to build a new system of paying for social care that was "fair, affordable and sustainable in the long term".