Ex-Tory MP Louise Mensch's rival to Twitter shuts down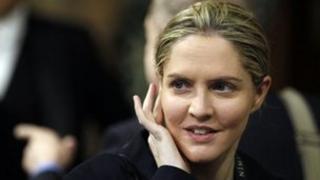 Microblogging website Menshn, launched seven months ago by former Conservative MP Louise Mensch, has closed.
On his blog, co-founder Luke Bozier said the pair "no longer have anything resembling a working relationship".
"She no longer wishes to run a company in which I own shares," he added.
Mrs Mensch and Mr Bozier had hoped the site would rival Twitter, enabling microbloggers to contribute in 180-character chunks to discussions "organised around topics".
Twitter restricts its users to 140 characters.
'Sound idea'
Mrs Mensch, the former Conservative MP for Corby, is a prolific Twitter user with over 75,000 followers, but said she had grown "frustrated" with it before launching the new venture.
After Mr Bozier made the announcement, she took to Twitter to say she was "sad to see menshn go".
"As I cannot work with him, then saw no prospect of development, & will be petitioning to wind the company up on a just and equitable basis," she added.
Former Labour digital adviser Mr Bozier said: "Alas, I am forced to agree that we don't have a basis for a working relationship, and frankly no longer wish to hold shares in a company she runs.
"Menshn still has a dedicated community of users, and I thank them for their dedication. I'm sorry we weren't able to turn it into something more sustainable.
"The idea - Twitter for topics - is a sound one and will be done very successfully by somebody else one day."