Right honourable no more: The Privy Council quitters
By Ed Lowther
Political reporter, BBC News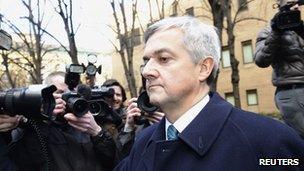 Chris Huhne has joined a select club: those who have been a member of the Privy Council, and then voluntarily left.
History records just four others who have quit the institution whose members once advised the monarch on how to wield their power.
Privy Councillors are usually members for life, and are entitled to adopt the "right honourable" honorific.
Nowadays there is no other obvious benefit to being a member, but the excision of the "right honourable" prefix has never been trauma-free, and is usually accompanied by scandal, deceit or ignominy.
So why did Huhne's predecessors quit?
Becoming a ruler of a foreign power
Queen Victoria's second son, Alfred, was born in England and became the Duke of Edinburgh. But when his uncle died in 1893, he inherited another dukedom: Saxe-Coburg Gotha, comprising 765 square miles of prime German and Austrian countryside.
The land was "renowned especially for its excellent hunting forests and picturesque castles", according to his biographer, but also "at the forefront of an ambitious military empire born out of martial victory, intent on challenging England's supremacy as the foremost world power".
The duke was in a tight spot. "He was thoroughly British in taste and habit and bitter was the prospect of expatriation," his daughter explained.
He found Coburg so dull compared with his eventful career in the Royal Navy - he had attained the rank of Admiral - that he warned a former sea-faring comrade he might cut his own throat.
And his homeland-to-be was not overly enamoured of him. "We confess openly that it offends our national sensibility that an English duke and admiral should be the Regent of a German state… The thought is intolerable for German sensibility," complained one newspaper.
Petitioning the then Prime Minister William Gladstone for continued public funds for the upkeep of his London pad, Clarence House, the duke declared: "It is to me a matter of the highest satisfaction that… I shall remain, certainly in spirit, a British subject." Gladstone complied, and Alfred returned to England frequently before his death in 1900.
Despite his keen continuing interest in British public life, the new duke of Saxe-Coburg Gotha felt obliged to curb his ability to participate actively in it. He relinquished his seat in the House of Lords and became the first person in recorded history to quit the Privy Council of his own volition.
Sleeping with the enemy's lover
"Daddy's decided to stop being a politician. He told a lie in the House of Commons, so now we're going to have a little holiday in the country... Now, doesn't that sound fun?"
Former secretary of state for war John Profumo never looked back publicly on his part in the best known political scandal in British history, but in 2006 - the year of his death - his son David's memoirs shed light on the affair from a unique vantage point.
The Conservative minister had tried to cover up an affair with Christine Keeler, a former nightclub hostess who counted a Russian spy among those vying for her affection. "Miss Keeler and I were on friendly terms. There was no impropriety whatsoever," he told the Commons.
David Profumo believes his father's political opponents were more sympathetic than the scandalised press when the truth was out, recalling that Labour MP Reggie Paget "had suggested that J's acquaintanceship with such a pretty girl 'was a matter for congratulation rather than inquiry'."
Nonetheless, a senior judge, Lord Denning, was appointed to investigate the national security implications of the affair. He found no evidence that Keeler had conveyed state secrets to the Soviets, but Profumo's career was over anyway.
Lord Hailsham, the minister responsible for the Privy Council, said it was "intolerable" that his colleague had "lied and lied and lied" about the affair, "lied to his family, lied to his friends, lied to his solicitor, lied to the House of Commons".
Having resigned from Parliament, Profumo attempted to relieve the establishment of further embarrassment. "I am quite clear I can no longer remain a Privy Councillor - but how to divest myself of this cherished honour, I do not know," he wrote to the then Prime Minister Harold Macmillan, on headed paper with the letters "MP" already blotted out. "I write to request that you take the appropriate action with Her Majesty the Queen."
"His name was removed at his request on 26 June," David confirms. "The loss of this accolade was such a badge of dishonour that I think it upset him for ever."
Faking death - three times
"From the depths of my being an emotion of tremendous intensity rose within me. I went to the rear of the plane into the tiny toilet compartment and screamed at the reflection in the mirror. 'Why do you do this to me?'… The inner turmoil was an agony. I wept."
John Stonehouse was a deeply troubled Labour MP who had grown tired of his job. "The House of Commons became even more oppressive and the childish banter even more irrelevant and irritating," he wrote in his memoirs.
"In the division lobbies, as I shuffled through to have my name ticked and my nod counted, I realised that most members around me were robots too, voting on issues which they did not bother to understand after debates to which they had not bothered to listen."
Stonehouse faked his own death while on a business trip to Miami, returning unnoticed from a swim, leaving his clothes on the beach and assuming the identity of a dead constituent, Joe Markham. Armed with a fake passport and complicated flight itineraries, he had headed for Australia - before losing heart, turning back, and learning no-one had realised he was missing. His memoirs recount a second, near-identical, botched effort.
But his third attempt at what he described as "psychiatric suicide" was more definitive. This time he made it to Australia, leaving behind his wife Barbara and young child. "As I saw it, my death would have been a release for her and for the family as well as for me," he wrote. His business ventures were faltering amid allegations of financial irregularities, and it later transpired he had been a spy for the Czechs. He had hoped to start a new life with his secretary.
The police caught up with him in Melbourne less than two months after his disappearance, arresting him on Christmas Eve in 1974.
In happier times, the then Prime Minister Harold Wilson told him over lunch that he was to become a member of the Privy Council, despite his relatively junior ministerial position. "I was delighted by this recognition," he wrote.
Now, facing extradition on fraud charges, he attempted to use his position as a privy councillor to petition the Queen, sending her an 18-page note professing his innocence.
The missive was ignored. He was extradited to the UK in June 1975, and stood trial in 1976 on various charge including theft and forgery, continuing to be an active MP as he fought - unsuccessfully - his own defence, pleading not guilty due to insanity.
His next note to the Queen, on 9 August 1976, was to resign from the Privy Council. He was struck off just under two weeks later.
Falling on the simple sword of truth
"If it falls to me to start a fight to cut out the cancer of bent and twisted journalism in our country with the simple sword of truth and the trusty shield of British fair play, so be it. I am ready for the fight."
In his memoirs, former Conservative minister Jonathan Aitken remembers that the sword of truth speech had gone down well in rehearsal. One group of listeners "burst into a round of spontaneous applause".
But when he delivered it in front of the TV cameras, Aitken regrets that he had the look of a "half-demented maniac staring into the wrong camera with bulging eyes".
Initially, he attempted to continue his work as a senior minister as he fought a libel case against the Guardian and Granada TV.
Soon he realised he was unable to focus on his duties as chief secretary to the Treasury, and resigned to concentrate on his legal battle. He felt a close connection to the Queen; accorded the customary farewell audience for departing ministers, he was left with the "feeling that a rare and healing balm had been poured into my wounds by a hand with a uniquely compassionate touch of kindness".
Aitken had been "delighted… to be elevated to the rank of a right honourable gentleman". But as his libel case collapsed, and he faced criminal charges of perjury, he felt obliged to go back down the elevator.
"Without any soul-searching, I recognized that I was so badly at fault for having told lies on oath in court that I could not, in all conscience, retain my title of 'Right Honourable' or my membership of the body which, in the mists of Britain's unwritten constitution, still remains the most eminent group of state advisers to the monarch."
The procedure was now better established than it had been in Profumo's day: he had merely to send a fax to an official, and when the council next met, on 26 June 1997, his resignation was approved. "Having completed these formalities, I knew that I had left public life for ever. It was a heartbreaking move."