Doncaster mayor quits English Democrats 'because of BNP'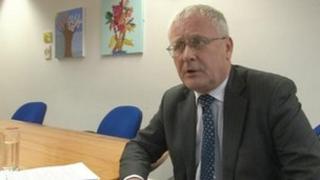 Peter Davies, the mayor of Doncaster, has resigned from the English Democrats claiming there has been a big influx of new members joining from the British National Party.
Mr Davies, who was elected to the post in 2009, had planned to stand for a second term at May's local elections.
He will now continue in office as an independent until the poll.
Party chairman Robin Tilbrook said he was saddened at the development but denied the party had been infiltrated.
The BBC's Yorkshire political editor Len Tingle said it had been known for some time that Mr Davies - whose son is a Conservative MP - was uncomfortable with his party's current direction.
'Irrelevance'
Mr Davies told the BBC last year that he had not been mayor very long before he "realised that being an English Democrat was a total irrelevance" and the job was "about doing what's best for everybody in the town".
Speaking on Tuesday, he said "all seemed to be well until about 18 months ago when it became clear more members of the BNP were being hoovered up by the party leadership" and, he claimed, one new member was still working for the BNP.
"It seemed odd to say the least and, to me personally, unacceptable," he said. "I realised things were heading in a direction I didn't want them to go in."
Mr Tilbrook claimed that it was not certain that the English Democrats would have selected Mr Davies to stand again as he had not followed party policy during his term of office in promoting its main aim to create an English Parliament.
He strongly denied that his party had been infiltrated by far-right elements and pointed out that any new member has to sign a pledge confirming their opposition to racism.
Mr Davies campaigned on behalf of the UK Independence Party in the 1990s before joining the English Democrats in 2005.
The English Democrats, whose only electoral success has been in Doncaster's mayoral elections, say they will choose another candidate at a selection meeting later this month. The party secured 0.2% of the total vote in the 2010 general election.
Residents of Doncaster voted to keep the mayoral post in a referendum last year, having originally approved it in another public vote in 2001.
The British National Party lost all six of the seats it was defending in last year's English local elections and one of its two MEPs, Andrew Brons, has said he has been "expelled in all but name" from the party.