Why gay marriage has exposed Conservative divisions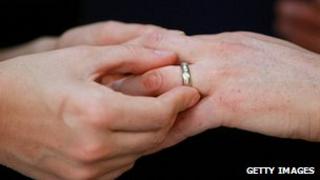 Many older Conservatives remember days when they were much more unpopular than they are now - days of strikes, riots and massive protests on the street, days when their leader's name was spat out with anger, days when they felt proud to be Tories.
Those Tories look back with fondness at that time of heroic unpopularity - when they awoke with pride to hear the news about the protests of the dragons Mrs Thatcher was slaying - the unions, CND and the Soviet Union.
Those same older Tories loathe the daily wearying grind of the age of austerity and coalition compromise.
They wake up now to hear with indifference or disappointment or, worse still, anger the news of what their government is doing. It is gay marriage which has released that fury.
Gay marriage was always certain to cause a furious row since it challenges sincere religious beliefs, deeply-rooted social conservatism and a mistrust of the metropolitan elite who are blamed for imposing an ideology of legally enforced equality on the country.
However, the real reason for the anger directed at David Cameron is that many Conservatives have realised that they and their attitudes are the dragon their leader has decided to slay.
Many believe that their leader only embraced gay marriage as part of his obsession with modernising the Tories and/or to claim credit for a measure the Lib Dems were determined to drive through.
There may be some truth in both but talking to senior Tories about gay marriage reminds me of talking to Tony Blair about Iraq.
When people hurled at him their belief that he was invading Iraq because of oil or a desperation to suck up to America he would reply "It's worse than you think, I really believe this".
The same is true of those around David Cameron and his acolytes. They really do believe in gay marriage. They believe much opposition to it is rooted in what they call "bigotry".
They want their government to be remembered for a great social change and not just its efforts to turn the economy around.
The divisions on display now stem from the fact that, in order to get their way, they are having to slay the sincerest beliefs of some of their own activists and MPs.