Budget 2013: No tax break for married couples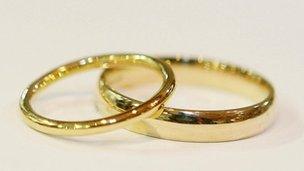 The government will not introduce a tax break for married couples in next month's Budget, it has emerged.
There had been speculation David Cameron would bring in the measure to appease Tory backbenchers who are opposed to gay marriage.
However legislation is expected to be introduced before 2015 to allow couples to transfer part of their personal tax allowance to their partner.
The Commons will vote next week on the government's plans for gay marriage.
The Marriage (Same Sex Couples) Bill would enable same-sex couples to get married in both civil and religious ceremonies, where a religious institution had formally consented, in England and Wales.
It would also allow couples who have previously entered into civil partnerships to convert their relationship into a marriage.
BBC political correspondent Vicki Young said the tax news had to be seen in the context of the highly contentious vote on gay marriage, with dozens of Tory MPs opposed to it.
The two issues are linked in their minds because they say it is about Mr Cameron's priorities, putting gay marriage ahead of married tax breaks.
Some of them say it will increase anger and consternation on the backbenches, our correspondent added.
The tax measure is in the coalition agreement but Liberal Democrat MPs would be allowed to abstain.
It is expected that one stay-at-home member of a married couple or civil partnership would be able to move £750 of their tax-free personal allowance to their working partner, reducing their tax bill. This would be worth about £150 a year to basic-rate taxpayers.
A senior government source said: "It won't be in the Budget but it will be in this parliament. This Budget obviously, with all that has happened in recent weeks and months, will be very much focused on growth in the economy".
According to the Times, the issue of gay marriage is causing Conservative members to leave the party in significant numbers.
The newspaper claimed that as many as 100 members had revoked their affiliation in some constituencies.
Tory MP David Burrowes is quoted as saying: "There's serious unrest in the grassroots. You cannot avoid the fact that the troops are unhappy. People are drifting away."
He told the BBC that had the government introduced the tax breaks, it may have "softened the blow" of plans to legalise same-sex marriage, but that it would not have been a "clinch for any deal".
He also said it was an "issue of finance" as to why tax breaks for married couples were not being introduced in the forthcoming Budget, but said it was not "a case of if, it's a case of when" they would eventually come in.
"It is something that should be a priority, not just because it's a commitment in our manifesto and a coalition agreement, but also because it's where we can particularly support the poorest of families by ensuring there is a tax allowance for married couples with children."
He also said: "Civil partnerships, quite rightly, give legal rights for same-sex couples. That doesn't mean we should change the definition of marriage, which is between a man and a woman."
Conservative MP Peter Bone is opposed to gay marriage and believes the vote shows the coalition has got its priorities wrong.
"I absolutely understand there could be a debate about it but as no party had it in their manifesto we shouldn't be pushing it through now," he said.
"I'm always being told we can't get any measures through because it's not in the coalition agreement."
But a Tory supporter of the bill, Jane Ellison, says the policy is winning the party new support.
"A great many people, a great many young people support this measure and their voice is really important in politics too," she told the BBC.
Matthew Sinclair, chief executive of the TaxPayers' Alliance, said the UK's "complicated tax system makes it harder for people to start a family" and can discriminate against married couples.
"Introducing an allowance that lets families share some of their personal allowance would help tackle poverty and reduce the perverse disincentives created by our dysfunctional tax code."
Conservative MPs will get a free vote on whether to introduce same-sex marriage. Labour and the Lib Dems have backed the idea.
The bill will allow religious organisations to offer same-sex marriages but Equalities Minister Maria Miller has said no religious organisation "will ever be forced to conduct marriages for same-sex couples".
Related Internet Links
The BBC is not responsible for the content of external sites.