US Vice-President Joe Biden to visit Downing Street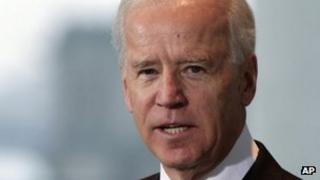 US Vice-President Joe Biden is to hold talks with UK Prime Minister David Cameron during a visit to London next week, it has been announced.
Mr Biden will also attend a meeting of the National Security Council.
The UK will be the final stop on a European tour, taking in trips to Paris and Berlin.
Mr Biden and Mr Cameron are expected to discuss the security situation in Africa and the future of the UK's relationship with the European Union.
The visit comes shortly after President Barack Obama raised concerns over Mr Cameron's plans to hold an in/out referendum on EU membership, telling the prime minister in a phone call that the US "values a strong UK in a strong European Union".
Also likely to be on the agenda are the security situation in north Africa, Iran's nuclear programme and the continuing uprising in Syria.
Mr Biden will meet Deputy Prime Minister Nick Clegg on his arrival in the UK on Tuesday, before having a working lunch with Mr Cameron in 10 Downing Street, the US Embassy in London confirmed.
He will fly back to Washington later that day.