UK says immigration route for entrepreneurs 'being abused'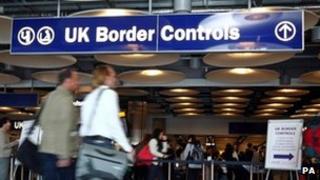 Immigration rules intended to encourage entrepreneurs to settle in the UK are being abused and need to be tightened, a minister has said.
Immigration minister Mark Harper said a "meaningful assessment of the credibility" of immigrants claiming to be entrepreneurs would be introduced.
Fake businesses were being created and funds recycled to provide evidence of entrepreneurial activity, he said.
"Legitimate applicants" would not be deterred, he predicted.
The new rules will come into force on Thursday, Mr Harper added in a written parliamentary statement.
The rules on who is allowed to live in the UK as an investor or an entrepreneur were changed in April 2011.
"These changes have successfully brought about a steady increase in applications from overseas," the immigration minister said.
"However, it is clear that following our tightening of other migration routes, the entrepreneur route is now being targeted by applicants seeking to abuse the immigration rules.
"There is strong evidence that funds to prove eligibility are being re-cycled amongst different applicants and that artificial businesses are being created.
"We need to tighten the current rules to allow for a meaningful assessment of the credibility of an applicant for this route."
The UK Border Agency would be able to "test the credibility of suspicious applicants" in future, he said.
But he added: "We will protect genuine entrepreneurs and continue to encourage them to invest in the UK where they will be made welcome."