George Galloway Bradford West victory a 'cry for help' from voters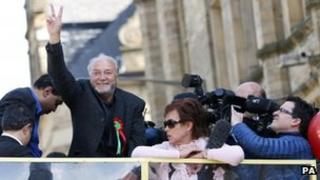 George Galloway's surprise victory in last year's Bradford West by-election was a "cry for help" from neglected voters, research has suggested.
The report by think tank Democratic Audit said established political parties had exploited clan-based loyalties to win votes, leading to resentment among some voters.
Traditional media combined with social media also helped secure the victory.
Labour said it had taken criticism it took voters for granted "seriously".
The by-election, in March 2012, followed the resignation of sitting Labour MP Marsha Singh due to ill health.
Mr Galloway, who had already given Labour an upset by unseating MP Oona King in Bethnal Green and Bow in 2005, described his victory as a "the most sensational result in British by-election history bar none".
'Bradford Earthquake'
He won the by-election with a 37% swing from Labour, ending the party's 38-year hold on the seat.
It prompted soul-searching in the Labour party as to what had gone wrong, with leader Ed Miliband visiting the seat to talk to voters just weeks after the defeat.
In its Bradford Earthquake report, Democratic Audit, a research organisation based at the University of Liverpool, highlights how mainstream parties traditionally took the votes of younger Asian voters and women for granted by negotiating with elders in the community who decided how the family clan would vote.
This system caused resentment among the young and women voters who were part of the clan.
"It also led to a build-up of resentment among the smaller clans who were excluded from representation, as well as among Asians not part of the clan system, and the local white population," the report says.
It contributed to "years of neglect" by local parties, who negotiated with local "power brokers" to secure votes rather than engage in more traditional campaigning and political organising.
This provided "fertile ground" upon which Mr Galloway could build his campaign and "a lot of dammed-up political energy" to tap into.
The report also found that Mr Galloway's media profile on Iranian channel Press TV, where he hosts a weekly programme, and radio station TalkSport helped voters see him as a respected political commentator.
'Modern democracy'
Lewis Baston, author of the report, told the BBC's Sunday Politics: "Back in the '50s everyone would watch the same channel because there was only one channel.
"Now we've got hundreds. People will have seen George Galloway talking on Iranian Press TV. They will have listened to him on TalkSport and they will have seen him confront the US Senate in one of YouTube's favourite ever political clips."
And his use of social media, with his own iPhone app, helped him stay ahead of the other parties.
However, in terms of campaign techniques there was "no revolution, merely a positive rational 'reboot', conducted by Respect, of traditional techniques in a modern setting" aided by weak local parties and a rejection of the "hollow" political language of the larger parties.
Speaking on the BBC's Sunday Politics, Mr Galloway said he believed clan-based politics was "gone for good" in Bradford West.
"The people came out and voted as they wished, rather than voted on the basis of the candidate's father having come from the same village as their father in Mirpur [a village in northern Pakistan] 60 years ago.
"People realise that in a modern democracy there has to be a better reason for voting for someone than that," he said.
'Great orator'
Labour's Sadiq Khan, who carried out the party's internal investigation into its defeat, said: "It's shocking that in 2010-11-12 there are politicians who think they can be elected that way.
"I'm pleased to say that we as a party took very seriously the loss in Bradford. We took very seriously the idea that votes had been taken for granted."
MP for Hull East, Karl Turner, said Mr Galloway's personality had also helped persuade the voters to back him.
"He's a forceful character," he said. "He's actually very charismatic. He's a great orator and I think that had an effect.
"I also think there was a feeling that we had taken the electorate for granted and I'm sure we've learned from that mistake."
The report concludes the vote was a "cry for help" from a largely forgotten constituency suffering numerous social problems, and the by-election was an "opportunity to strike a blow against a local power structure that was widely disliked".
"The problems of Bradford are much more widely known and discussed because of the by-election," it says.
"Even if [Mr] Galloway's populism outlives its usefulness, the by-election will have done the city a service. And having used the ballot to achieve an extraordinary result, the electors of Bradford - particularly women, the young and the marginalised - know that they have the power to do it again."