Clegg says Coalition was wrong to cut capital spending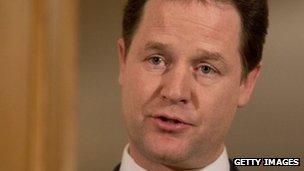 The coalition made a mistake in cutting back capital spending when it came into office, Nick Clegg has said.
The deputy PM told The House magazine that ministers had reassured themselves at the time that the reduction was in line with plans drawn up by Labour.
But they now realised investment in infrastructure was crucial for economic recovery, he added.
However, Downing Street said the "right decisions" had been taken and infrastructure spending was rising.
Mr Clegg's comments came ahead of fresh GDP figures - which show that the UK economy contracted by 0.3% in the last three months of last year. Most economists had forecast a drop of 0.1%.
Labour said Mr Clegg's comments were the coalition's first admission of a "serious mistake" on the economy.
In his interview, Mr Clegg said: "If I'm going to be sort of self-critical, there was this reduction in capital spending when we came into the coalition government.
"I think we comforted ourselves at the time that it was actually no more than what [former Chancellor] Alistair Darling spelt out anyway, so in a sense everybody was predicting a significant drop off in capital investment.
"But I think we've all realised that you actually need, in order to foster a recovery, to try and mobilise as much public and private capital into infrastructure as possible."
He said more capital investment would create jobs and help the economy in the long run.
In his Autumn Statement, Chancellor George Osborne announced an additional £5bn of investment spending, including £1bn for road upgrades and £1bn for schools expansion.
Conservative health minister Anna Soubry told BBC One's Question Time there was "some merit" in the deputy prime minister's comments.
But David Cameron's spokesman said: "The PM's view is that the right decisions were taken.
"As the Treasury has explained, the government is spending £20bn more on infrastructure than in plans prior to the 2010 Spending Review, including increases in infrastructure spending in the last two autumn statements, which have been possible in part because of the progress that has been made in reducing current spending."
The UK registered a double-dip recession last year, contracting for three quarters in a row before bouncing back with growth of 0.9% in the three months to September.
Mr Osborne has said UK spending cuts must continue if the government is to retain credibility.
His comments came as a rebuff to the International Monetary Fund's chief economist, Olivier Blanchard, who called for the UK to slow down its austerity programme.
Labour's Rachel Reeves said of Mr Clegg's comments: "This is the first admission that this government has made serious mistakes on the economy.
"But the real question is what Nick Clegg's government is going to do about it. We have urged ministers to bring forward infrastructure investment and build thousands more homes, but they have refused to listen."
Meanwhile, the Daily Telegraph reports that London Mayor Boris Johnson is urging the coalition to "junk the rhetoric of austerity and be confident".
Mr Johnson outlined a seven-point economic plan to business leaders at the World Economic Forum in Davos, including more house-building, investment in roads and railways, and tax cuts.
According to the Guardian, he also accused ministers of addressing airport capacity in south-east England at a "panda-like pace".
Related Internet Links
The BBC is not responsible for the content of external sites.