Government 'underestimates resolve' of MPs to change Parliament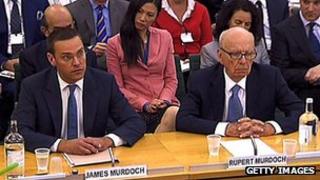 The government has "underestimated the resolve" of a senior group of MPs to change the way Parliament and government work together, the MPs say.
The Commons Liaison Committee said the government had not "fully absorbed" the expectations of select committees, which were growing in self-confidence.
And the committee insisted it "meant what it said" about achieving change.
It will ask MPs to back its call for a new relationship between Parliament and government in a vote next Thursday.
Select committees are cross-party bodies that scrutinise the work of government departments and other public agencies as well as looking into wider matters of public interest.
Their profile has risen in recent years following investigations and public hearings into the conduct of British banks and phone hacking allegations against the News of the World newspaper.
'Changed mood'
The comedian Russell Brand, the-then chief executive of Barclays Bank, Bob Diamond, and Rupert Murdoch have all been grilled by MPs in recent years.
The Liaison Committee - made up of 33 senior backbenchers who chair individual select committees - said this increased profile, alongside recent reforms such as the election of committee members, had boosted the "self-confidence" of committees, but the government had failed to keep up with the "changed mood in the House".
In a report published last year the committee recommended re-examining the relationship between Parliament and government in light of changing expectations and the growing role of select committees.
Despite the proposal not being "fully accepted" by the government, the committee insisted it was determined to "press for progress" and would ask the House of Commons to back them on the issue in a vote next Thursday.
Liaison Committee chairman Sir Alan Beith said: "Many MPs now see their work in select committees as the most important and effective part of their work in Parliament.
"There is growing self-confidence among select committees this Parliament. Our report showed that - strengthened by the Wright reforms and the new mood in the House - they are having a definite impact on government, and it is good to see the government acknowledging that.
"But the government does not yet seem to have fully absorbed the extent to which our expectations have changed.
"We really meant what we said about wanting more effective accountability and that requires a changed approach from government. We'll be looking to get the House of Commons' support for this in a debate next week."
The Liaison Committee also said the government had given "disappointingly little ground" on a separate recommendation to give committees more of a say on political appointments and important diplomatic posts.