Knock down tower blocks, says think tank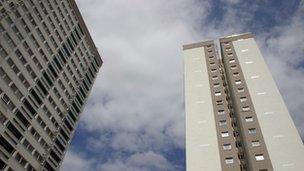 High-rise blocks should be knocked down and replaced with terraced homes to help tackle social problems and remove "no-go" areas, a think tank has argued.
The report by Policy Exchange claims terraced streets and low-rise flats could achieve the same density of housing as high-rises.
It says 260,000 new homes could be built in London in seven years by demolishing tower blocks.
"Proper streets where people want to live" are what is needed, it claims.
According to the report, Create Streets, about 140,000 households with children live on the second floor or above in England alone.
The author of the report, Nicholas Boys Smith, warns that residents of such estates - mostly social tenants - suffer more stress, mental health problems and marriage breakdowns.
He said: "It's time we ripped down the mistakes of the past and started building proper streets where people want to live.
"We must not repeat mistakes by building housing which makes people's lives a misery.
"Bulldozing the high-rise tower blocks and no-go zone estates and replacing them with terraced homes and low-rise flats is the best way to build both the number and the quality of homes that we need."
High-rises could also pose fire dangers and were more expensive to build and maintain, he said.