'Plebgate': Officer re-bailed over Andrew Mitchell 'leak'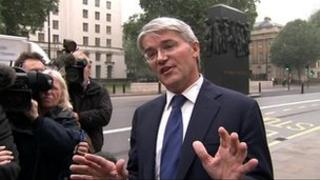 A police officer has been re-bailed following his arrest as part of the inquiry into the Andrew Mitchell "plebgate" row, the Met Police say.
The diplomatic protection officer, who was arrested in December on suspicion of misconduct in a public office, will have to answer bail again in February.
Police are investigating how newspapers came to publish police records of an incident at Downing Street that led the then Tory chief whip to quit.
He was accused of calling police plebs.
A 23-year old man, who was also arrested in December, has previously been re-bailed, also to return in February.
In September, Mr Mitchell was accused of calling officers plebs and swearing when police asked him to use the pedestrian gate, rather than the main gate, to leave Downing Street with his bicycle.
Mr Mitchell later apologised for not having shown enough respect to the police but maintained that he "did not use the words attributed to me". However, he quit the government over the affair a few weeks later.
Newspaper accounts
The official police log of the confrontation between the chief whip and officers was published by the Daily Telegraph and the Sun.
Doubts have subsequently been cast about the validity of the claims against Mr Mitchell.
The Met has said the arrested officer, who has been suspended, was not on duty during the incident, and investigations have found no evidence to suggest those on duty on the day were involved in the unauthorised release of information.
On Monday, Cabinet Secretary Sir Jeremy Heywood was criticised by MPs for the investigation into the affair he carried out at David Cameron's request.
The Public Administration Committee said he had "failed to resolve" key questions and should have urged a wider probe into "discrepancies" of accounts between the MP and police.
Sir Jeremy was asked to consider emails sent to Mr Mitchell's deputy at the time - Conservative MP John Randall - by a member of the public claiming to have witnessed the incident, and whether they altered Mr Cameron's original assessment that Mr Mitchell should stay in his job.