EU referendum: PM's problem solved or delayed?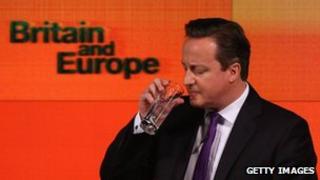 Referendums - or at least the promise of such plebiscites - have, in the past, got political leaders off some pretty painful hooks.
But often they have managed to bring themselves only temporary relief - with problems delayed, not resolved.
Britain entered the then EEC in the 1970s under a Conservative government without a referendum and, opponents said, on the wrong terms.
Labour politicians were divided on whether to stay in or get out - so Harold Wilson offered renegotiation followed by a referendum.
With the backing of almost all of the major papers, the Yes campaign won comfortably.
But the issue wasn't settled.
Labour campaigned at the 1983 election to pull out of this "capitalist market".
'Banging on'
Their position subsequently changed - though not before some on the right of the party formed the new SDP.
And with both the Conservatives and the British press becoming more sceptical in the 90s, one of the most pro-EU party leaders - Tony Blair - felt he had to offer a referendum if a Labour government were to decide it was in Britain's economic interests to join the euro.
He then found it politically expedient to offer a referendum on a new EU constitution before the 2005 election but the re-elected Labour government then decided the Lisbon treaty wasn't quite a new constitution after all.
The vote was off, and when Gordon Brown became Prime Minister he signed up to Lisbon (although he arrived for the ceremony late and avoided joining other EU leaders at a self-congratulatory gathering).
To steal a political march, the then leader of the opposition David Cameron had offered a "cast-iron" guarantee of a referendum on Lisbon which was ditched after his election - largely because the treaty had already been ratified.
This led to an impression amongst some in his own party that he wouldn't stand up to the eurocrats nearly enough. The eurozone crisis improved UKIP's standing in the polls and the prime minister had no option but to ignore his own warning not to "bang on about Europe".
Cynicism
So today's offer of an in/out referendum solves some short term problems.
A huge swathe of his own backbenchers defied the party whip just over a year ago and backed a referendum in a parliamentary vote.
Now he is promising to deliver one - although not until after the next election.
He says there will be a referendum if he is prime minister after 2015.
Many in his party will think that will help blunt UKIP's attack in next year's EU elections.
And David Cameron will feel that, as well as quelling dissent in his own ranks, his chances of winning that much more important election - the general election - have been improved by today's speech.
He sees a rise in Euroscepticism among the electorate and believes a referendum would help counter the cynicism that politicians occupy their own "political class" separate from voters' worries.
He will also be aware that polls consistently show that while people have strong views on Europe, they very rarely put the EU at the top of their concerns.
Fundamental changes
However, he could succeed in delivering a strong dividing line between the Conservatives and their current coalition partners - and with the official opposition.
The challenge for Labour and the Lib Dems is whether they will now allow David Cameron to be the only leader of a major political party to go in to the next election offering voters a say on the EU.
Both Nick Clegg and Ed Miliband say they would hold a referendum if there are any proposals to transfer more powers from Britain to Brussels, but such a transfer doesn't seem likely.
Both leaders say now is the wrong time to promise a straight in/out referendum.
But if the Conservatives improve their poll ratings, and public attitudes to the EU grow more sceptical, will the Lib Dems repeat their last manifesto pledge of offering a referendum not simply if there is a one way transfer of powers from the UK to EU but if there are any fundamental changes in the relationship?
Ed Miliband, so far, has studiously not ruled out holding an in/out referendum - he has simply said he wants to see the new shape of EU following the single currency crisis before reaching a decision. So he will be under huge pressure from some in his shadow cabinet not to concede the ground of "democratic accountability" to the Conservatives, and risk the ire of most of the popular press.
He will be under pressure equally from pro EU voices such as Lord Mandelson to turn David Cameron's dividing line to his own advantage and argue that only Labour would offer business the certainty of continued EU membership - albeit with reform.
Unappetising
Let us assume David Cameron succeeds, and wins the election in 2015.
He says if he is prime minister there will be a referendum. So if the Lib Dems want to re-enter coalition, that is the price they will have to pay. So far, so good.
Then it becomes tricky.
He wants to negotiate a new deal with Brussels that would give all member states a greater say over domestic affairs. If he fails, he says he will negotiate a new deal for Britain.
The French have already said they don't want an "à la carte" menu in the EU. Continuing the food analogy, the German foreign minister said today the UK cannot be allowed to "cherry pick".
But David Cameron will not accept the unappetising "table d'hôte" that is being served up.
The prime minister said this morning he was an optimist not a pessimist when it came to getting meaty reforms from his EU partners.
He sidestepped questions about what would happen if he returned from future summits with thin pickings.
Would he still argue enthusiastically in any referendum for a Yes vote? Would some of his MPs, enthused by today's speech, drift towards the No camp if they feel the prime minister hasn't negotiated a good enough deal? Could that, in turn, influence voters to say No?
So - in common with other party leaders in the past who have tried to maximise party unity and keep in with the papers by promising referendums - he may find that every solution brings a problem.