UK 'may offer further support to French troops in Mali'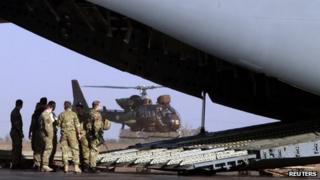 The UK is looking at giving further "logistical and surveillance" support to French operations in Mali, the government has said.
The National Security Council discussed the matter at a meeting on how to deal with "fragile states" at risk of becoming a "haven for terrorism".
The prime minister's spokesman said efforts in Somalia, which had seen "some progress", could offer guidance.
Several thousand French troops are fighting Islamist rebels in Mali
Two UK military aircraft have already been lent to France and David Cameron has said there could be further assistance with transport and surveillance.
But the Ministry of Defence says there are no plans for a ground combat role.
'Not perfect'
Following British deaths in an attack on a gas plant in Algeria by Islamist militants, Mr Cameron has warned north Africa is becoming a "magnet for jihadists".
Concerns about the growing influence of al-Qaeda in north Africa have grown following the deployment of French troops to tackle militant groups linked to the network in Mali and the Algerian hostage crisis.
Militants behind the Algeria attack, in which at least 48 foreign hostages died, have called on France to end their intervention in Mali.
Mr Cameron's spokesman said the National Security Council had discussed "further logistical and surveillance support for the French and Malian government operations in Mali".
The situation in Somalia - while not a perfect replica - could provide the international community with "some guidance to the type of approach that can be taken when dealing with fragile states which can be a haven for terrorism", he added.
The spokesman also said: "Somalia is not perfect in any means but there is some progress there."
Speaking in the House of Commons on Monday, the UK prime minister said: "Together with our partners in the region, we are in the midst of a generational struggle against an ideology which is an extreme distortion of the Islamic faith, and which holds that mass murder and terror are not only acceptable but necessary."
The response of the international community to this threat would top the agenda during the UK's presidency of the G8 group of leading industrialised nations, Mr Cameron said.
However, BBC world affairs correspondent Mike Wooldridge said: "Sustaining and giving practical meaning to an ambitious agenda to counter the jihadist threat across a whole swathe of territory straddling north and sub-Saharan Africa will clearly be a huge challenge."
Remarks by Egyptian President Mohammed Mursi condemning the hostage-taking in Algeria, but suggesting military intervention in Mali would inflame conflict in the region, were a "sign of the complexities of building consensus", our correspondent added.
UK Foreign Secretary William Hague said the West must balance its military, political and humanitarian role, and it should be an Africa-led response to the region's problems.
Lessons must be drawn from the decades-long conflict in Somalia, he added, where African forces took the lead in fighting terrorism and the international community focused on providing humanitarian and diplomatic support to create the space for a "legitimate government" to function.
Two RAF C17 aircraft loaned to the French mission in Mali have been used to transport military equipment and service personnel.
The UK is also sharing intelligence with France as part of "limited" logistical support.
French troops are involved in attacks on Islamic rebels who have gained control of parts of Mali, in support of the country's government until an African force is able to take over.