Royal Succession: Nicholas Soames fears hereditary peer change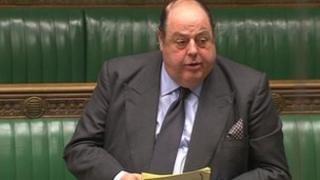 "Tinkering" with royal succession could "damage" laws on hereditary titles, Tory MP Nicholas Soames has warned.
Ministers want to end the principle of sons taking precedence over daughters as heirs to the throne.
But Mr Soames said the government faced "entirely understandable trouble" in the House of Lords if similar changes were made to hereditary titles.
Nick Clegg said he was sympathetic to extending the changes to titles, but it was not practical at the present time.
MPs were debating the Succession to the Crown Bill, which will remove any gender preference from the laws of royal succession.
Mr Soames, grandson of Sir Winston Churchill and friend of the Prince of Wales, expressed concerns that the male primogeniture that governs hereditary peerages could now come under scrutiny.
'Unintended consequences'
In most cases, aristocratic titles in Britain pass to the eldest son in the family, even if he has an older sister. If there is no son, family titles can sometimes be lost altogether.
A section of the House of Lords remains reserved for hereditary peers. Most were removed in 1999 following reforms by the Labour government, but 92 were allowed to keep their seats.
Mr Soames warned of the "unwanted, unintended consequences that often flow from tinkering with legislation of this type and could damage the crucial relationship between Church and state, as well as peerage law".
He said he anticipated "very considerable and entirely understandable trouble" in the House of Lords and sought assurances that changing the rules on royal succession would not pre-empt a judgement about whether the same changes should be made to hereditary titles.
Deputy Prime Minister Nick Clegg, who is leading the changes on royal succession through Parliament, said: "I've heard the suggestion that we use the bill to tackle the gender bias in hereditary titles, where titles and the benefits that come with them leapfrog eldest daughters and are handed down to younger sons or can be lost entirely when there is no male heir.
"Personally, I am sympathetic to that reform and I can see why this seems like the natural time to do it, but for purely practical reasons it cannot and won't be done in this bill."
The Political And Constitutional Reform Committee has called on the government to make changes to hereditary titles because of the impact on the gender balance of Parliament.
But the government said any changes would be "far more complicated to implement fairly" than changing the royal succession rules and were a separate issue.