Benefits should rise by inflation, says Labour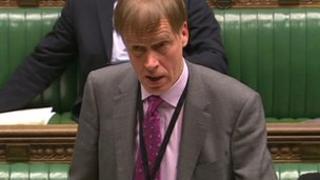 A Labour shadow welfare minister has appeared to commit his party to raising working-age benefits and tax credits in line with inflation.
Stephen Timms was speaking on the Welfare Benefits Uprating Bill, which would introduce a 1% cap on many working-age benefits and tax credits.
Labour has previously said that it would oppose the 1% cap.
But this is the first time any Labour spokesman has made any kind of pledge to restore the link with inflation.
The cap will apply to working-age benefits such as job seekers allowance, child benefit and maternity pay.
Labour sees it as unfairly targeting the least well off, including low paid workers as well as the unemployed.
Restoring the link with inflation would cost about £1.9bn, the government claims.
Commitment query
Mr Timms, speaking during the committee stage of the bill, was responding to a question from the Conservative MP Charlie Elphicke.
He asked: "Is it the policy of the honourable gentleman and the opposition that uprating shouldn't be by 1% but it should be by inflation, is that a commitment?"
Mr Timms replied: "Indeed, uprating should be in line with inflation as it always was in the past."
He later repeated this view, saying: "We reject the proposal to restrict the uprating of social security and tax credits to 1% in our view, as I have already said, uprating should be in line with inflation and it should be assessed as it always has been at the end of the preceding year."
Labour sources insisted this did not amount to a commitment about what the party might promise in their manifesto for the 2015 general election, or what the party might actually do if it were elected.
Instead, they said Mr Timms was simply repeating an existing statement that if Labour were in office now, they would not be capping welfare at 1% and instead would let the existing system remain, in effect allowing benefits to rise in line with inflation.
They pointed to an interview given by the shadow chancellor Ed Balls with Sky News on 6 January where he said: "The normal thing is to index and the government would normally have indexed in line with inflation and to be honest, I think that would be fair."
But Mr Balls pointedly refused to make any commitment: "It's not responsible for me as a shadow chancellor to come here two and a half years ahead and tell you what we can do about taxes or spending or benefits."