New date for David Cameron speech on UK and the EU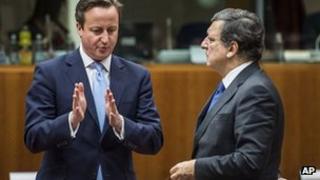 David Cameron is to deliver his long-awaited speech about the UK and European Union on Wednesday morning, Downing Street has announced.
It had been scheduled for last Friday in the Netherlands, but was postponed because of the Algerian hostage crisis.
It will now be delivered in central London, rather than abroad, because "it best fitted with his schedule".
No 10 said the PM wanted to set out his views on Europe and may call other EU leaders before delivering the speech.
Mr Cameron has said he wants the UK to remain in the 27-member union playing a "committed and active" role but argued that the basis of its relationship must change.
'Context'
Extracts from Mr Cameron's speech released on Thursday night - before it was postponed - indicated he intended to set out a "positive vision" for the future of the EU but to warn of a growing "gap" between the EU and its citizens "which represents a lack of democratic accountability and consent that is - yes - felt particularly acutely in Britain".
"If we don't address these challenges, the danger is that Europe will fail and the British people will drift towards the exit," he was to say.
"I do not want that to happen. I want the European Union to be a success and I want a relationship between Britain and the EU that keeps us in it."
Foreign Secretary William Hague has said he believes that "fresh consent" will eventually be needed from the British public for the changes that the UK wants to see in its status within the EU.
The "context" in which a future referendum could potentially be held would be made clear in the speech, Mr Hague told the BBC on Sunday.
Several Conservative MPs who want a looser relationship with the EU focused around trade and who have been briefed about the speech say they are "satisfied" with the thrust of what Mr Cameron is going to say.
But some europhile Conservatives, including Lord Heseltine, have warned that committing to a referendum at some point in the future on the outcome of an uncertain negotiating process was an "unnecessary gamble".
The Lib Dems say pursuing a wholesale renegotiation of the UK's membership will cause uncertainty and deter foreign investment while Labour claim Mr Cameron's approach is being driven by party calculations rather than the national interest.
For Labour, shadow foreign secretary Douglas Alexander said: "We understand and support the prime minister's decision to cancel his speech on Friday because of unfolding events in Algeria.
"The truth is the reason this speech has now been delayed for over 6 months is because David Cameron simply doesn't know what to say. The gap between what his backbenchers demand and what the country needs has literally left him speechless, stranded between national and party interest."