William Hague: Mali must not be allowed to be failed state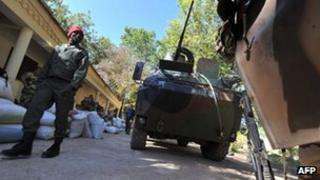 Mali must not be allowed to become a "failed state" but a solution to its problems must be Africa-led, Foreign Secretary William Hague has said.
The UK has backed the deployment of French troops to try and push back militant groups linked to al-Qaeda.
The foreign secretary said the west must learn the lessons of Somalia in terms of how it balanced its military, political and humanitarian role.
"There is no perfect policy prescription," he told the BBC.
Militants behind the attack on the BP gas facility in Algeria, in which at least 48 foreign hostages died after a four-day siege, have called on France to end their intervention in Mali.
Prime Minister David Cameron, who will give an update to Parliament about British victims later, has said the international community faces a "large and existential terrorist threat" and the UK and other countries must act to deny terrorists a safe haven wherever they seek it.
The government has provided logistical support to the French military in Mali, which is seeking to push back Islamic rebels which have gained control of parts of the country. But ministers have insisted there will be "no combat role" for British forces.
'Not omnipotent'
Mr Hague rejected suggestions the international community could have done more at an earlier stage to anticipate the problems in Mali and the risk that they would spill over into neighbouring countries.
He told BBC Radio 4's Today programme that the UN had being trying to broker a political process in Mali and encourage the mobilisation of a western African military force to support peace efforts, but that this inevitably took time.
Although the UK had increased counter-terrorism co-operation with countries in the region, such as Mauritania, he said the UK's diplomatic presence in the region was historically "limited" and France was the leading European power
"It is a complete illusion to think we are omnipotent in all of these respects," he said.
"Of course there are many many different factors at play. There is no perfect policy prescription...we need to use a whole variety of political, economic instruments as well as - where necessary - the military power that France has deployed, but most importantly, that must come from African countries."
Lessons must be drawn from the decades-long conflict in Somalia, he added, where African forces took the lead in fighting terrorism and the international community focused on providing humanitarian and diplomatic support to create the space for a "legitimate government" to function.
"That has led to a lot of progress in Somalia. What we don't want in countries like Mali is the 20 years of being a failed state that preceded all of that in Somalia."
Libyan weapons
Mr Hague said Mali had "not just gone from no problems to dramatic problems" in the past 18 months and the authorities there must be ready to talk to groups with legitimate grievances which could not all "be lumped together with al-Qaeda".
He also rejected suggestions that the UK-backed intervention in Libya, where a prolonged military conflict led to the overthrow of Colonel Gaddafi, had exacerbated the problems in the region.
"Weapons and Tuareg people coming out of Libya have contributed to this situation - which al-Qaeda in the Islamic Maghreb have been able to take advantage of," he acknowledged.
But he added: "While the Libyan situation may well have contributed to what is happening in Mali, the action that the western world took in Libya mitigated that.
"If the Libyan conflict had gone on for longer there would have been an even greater flow of weapons and even greater opportunity for extremists to take hold in Libya."
Former Lib Dem leader Sir Menzies Campbell said the government's response to terrorist threats in the region must be "tough but intelligent", mindful that it was a part of the world where the UK "had not been particularly prominent for a long time".
"We will have to work in close co-operation with the French - they know this part of the world rather better than we do.
"I also hope he (David Cameron) will talk about operating alongside allies and those of a like mind."