Cameron and Europe: PM postpones long-awaited speech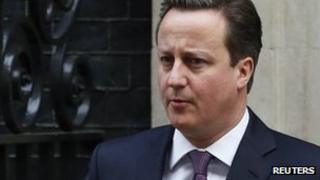 David Cameron has postponed a long-awaited speech on the UK's relationship with Europe to respond to the hostage crisis in Algeria.
The British prime minister had been expected to set out his vision for the UK's future role in the European Union, including the prospect of a referendum.
He confirmed that "a number" of Britons had been taken hostage and warned the country to prepare for "bad news".
Labour pledged its full support as the government tried to resolve the crisis.
The Conservative leader had been under pressure from many of his MPs to give a binding commitment to a vote on Europe when he delivered his speech in Amsterdam later.
Mr Cameron had been planning to address an audience of Dutch business leaders, with a speech which would have been closely watched by other European leaders, the business community and supporters and critics within his own party.
It is not yet known when and where he will now deliver the speech.
UKIP leader Nigel Farage said on social media website Twitter: "The PM had a very difficult decision to make re events in Algeria. We have waited a long time for this speech & can wait a little longer."
Earlier senior Lib Dem MEP Sir Graham Watson tweeted: "Al Qaeda 1, @David_Cameron 0". Party leader Nick Clegg was said to be "furious", and Sir Graham later deleted the tweet and apologised "profusely".
Foreign Secretary William Hague is cutting short a visit to Australia to respond to the Algerian hostage crisis, while ministers are planning to make a statement to Parliament to update MPs.
'Give consent'
Extracts from Mr Cameron's speech released on Thursday night reveal he intended to set out a "positive vision for the future of the European Union. A future in which Britain wants, and should want, to play a committed and active part".
He planned to stress the EU's structures were already undergoing "fundamental change", adding: "There is a gap between the EU and its citizens which has grown dramatically in recent years and which represents a lack of democratic accountability and consent that is - yes - felt particularly acutely in Britain."
"If we don't address these challenges, the danger is that Europe will fail and the British people will drift towards the exit," he was to say.
"I do not want that to happen. I want the European Union to be a success and I want a relationship between Britain and the EU that keeps us in it."
It also emerged that US President Obama renewed pressure on Mr Cameron over Britain remaining a member of the European Union. Details of a phone call with the prime minister on Thursday were released by the White House.
A spokesman said: "The president underscored our close alliance with the United Kingdom and said that the United States values a strong UK in a strong European Union, which makes critical contributions to peace, prosperity, and security in Europe and around the world."
Speaking on Wednesday, Mr Cameron suggested the British public would be asked to "give their consent" to any changes that emerge from future negotiations and their verdict would "settle the issue once and for all".
The prime minister has repeatedly said he does not favour a so-called "in-out" referendum on the UK's membership of the EU, in which people would be asked whether they wanted to stay in the organisation or to leave.
But he has been warned that any referendum - which is unlikely to take place before 2015 and may hinge on the Conservatives winning the next election - could effectively turn into a decision on the UK's future presence within the EU.
Labour has said a commitment to hold a referendum at a future date would cause uncertainty, telling international investors that the UK was "closed for business".
Uncertainty
The Lib Dems have also warned of the risks of the UK leaving the EU "almost by accident" and said a concerted push to renegotiate its relationship could cause uncertainty and deter foreign investors at a difficult time for the British economy.
More than 80 Conservative MPs defied the government in 2011 and called for an in-out referendum, arguing that the public had not been consulted on the issue since approving the UK's entry into the then Common Market in 1975.
A separate Tory group claiming the support of more than 100 MPs has called for a "new settlement" within the EU based on a wide-ranging repatriation of powers, while other MPs have said such a course of action is unrealistic and Mr Cameron should focus on defending specific British interests in trade and financial regulation.
The UK Independence Party, which campaigns for the UK to leave the EU, says Mr Cameron has broken past pledges over European referendums and his approach is designed to paper over divisions within his own party.
The UK insists that it has allies within the EU who share its views on the need to reform institutions and alter the balance of powers between Brussels and national capitals.
But, speaking on Thursday, a spokesman for the Dutch prime minister Mark Rutte suggested other EU nations were unlikely to allow any one country to opt out from "all kinds of arrangements" and the UK was likely to be "disappointed" if it went down that route.