UK firearms: Licence applicants may need partners' approval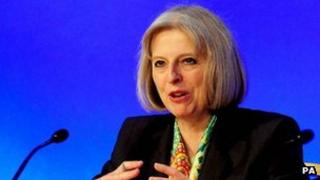 People applying for gun licences could be asked to prove that their current or recent partners have consented to the application, Theresa May has suggested.
The home secretary said it was "not appropriate" for people with a history of domestic violence to own guns.
Ministers are examining if the extra check could "reduce the risk to domestic violence victims", she said.
Her comments came in a letter to MPs which was sent soon after the Newtown massacre, but published on Wednesday.
The massacre took place on 14 December at Sandy Hook Elementary School, near Newtown in Connecticut, leaving 20 children and six adult staff members dead and re-opening debate in the US on gun controls.
Suspended sentences
Mrs May wrote to the Home Affairs Committee, advising MPs that the government was working with the Association of Chief Police Officers on how to strengthen "guidance on how reports of domestic violence should be treated by police considering firearms applications".
She told the committee: "Although each case is considered on its merits, we will discuss with ACPO [the Association of Chief Police Officers] amendment of the guidance to make it clear that it is not appropriate to issue a firearm or shotgun certificate where there is a history or successive reports of domestic abuse.
"The proposal that the Canadian practice of consulting the partners of firearms applicants should be introduced here needs greater scrutiny and analysis of the evidence base, to establish whether such a measure would reduce the risk to domestic violence victims as intended."
In Canada, spouses or recent ex-spouses are required to sign gun licence application forms. If they decline, additional checks are carried out on the applicant.
Mrs May's letter constituted a "supplementary" response to the committee's 2010 report into firearms control, which was prompted by the murder of 12 people in Cumbria by gunman Derrick Bird.
The statement marks a shift in tone from the government's initial response, which said it would look into the proposal despite its "concerns that involving partners and recent ex-partners in signing applications may put them in a position of vulnerability and increased risk of renewed violence and abuse.
"Also, consent from a current partner may mean that the partner signs the application to ensure their imminent safety without consideration for future safety."
The home secretary also said that the government was considering ways to tighten medical background checks on applicants for gun licences.
Under the current gun-licensing regime, criminals who are sentenced to three months or more in prison face a temporary ban on firearm possession; those who are sentenced to three years or more are banned permanently from possessing a gun.
Supplying a firearm laws
But Mrs May told MPs that the government was now exploring the recommendation, also contained in the committee's 2010 report, to extend the ban to criminals receiving suspended sentences.
The report said: "The legislation should be amended to clarify that persons in receipt of wholly suspended sentences are subject to the same prohibitions from obtaining a licence to hold... firearms or shotguns as they would be if their sentence had not been suspended.
"We do not believe it appropriate for those convicted of offences which are serious enough to warrant a custodial sentence to retain their firearms.
"We are also of the view that those who receive shorter custodial sentences should not be allowed to possess firearms."
Twenty years before the Cumbria shootings, Bird had been sentenced to six months in prison, suspended for a year, for stealing decorating materials from his then employer. He also had a drink-driving conviction.
But he had been allowed to keep his shotgun certificate, obtained before his 17th birthday.
In October 2012, Mrs May pledged to create a new criminal offence of supplying a firearm to tackle people who hire out weapons to gangs.
Ms May said those supplying guns were "as guilty" as those using them as the impact was just as deadly.
The maximum sentence for the offence, which will apply in England, Wales and Scotland, will be life imprisonment.