Audit Commission's abolition could be dangerous, say MPs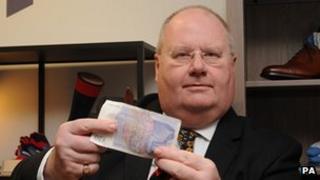 The government's decision to abolish the Audit Commission could have "awkward" and "dangerous" consequences, a committee of MPs has said.
The body scrutinises whether local government in England spends its £200bn of public money each year properly.
It shed its in-house audit team in 2012, but the abolition of the residual commission has been delayed until 2015.
MPs worry that the successor regime will promote cosiness between councils and their private-sector auditors.
Late last year, 700 auditors were despatched from their public-sector desks to undertake identical work for private-sector firms hoping to profit from the commission's demise.
There was little resistance from MPs to this part of the plan. Before the reforms, the commission was already out-sourcing 30% of its auditing work to private firms.
The commission's inspection regime too was abandoned. The Local Government Association, the body representing local authorities, argued it had been an "excessive burden" on cash-strapped councils.
Red flag
One estimate suggested it had cost local and central government a total of £2bn each year.
Before they were abolished, the inspections had grown into sprawling undertakings that aimed to give the public access to detailed information on how well services were being delivered in each part of England.
For example, the Audit Commission ruled on how well local authorities were "working to ensure that all local people thrive economically" and "enabling everyone to make healthy lifestyle choices".
It distributed green flags to top performers, encouraging others to emulate their successes. The worst local authorities were shamed with red flags.
This inspection regime now looks set to be replaced by a cheaper voluntary system of "peer review", where local authorities judge one another's effectiveness - a move championed by the Local Government Association.
But MPs are concerned that poorly performing local authorities may slip through the net, and want the government to impose some safeguards.
Independence
There is even greater consternation about who will hire the auditors in future.
The government wants local bodies to take responsibility for this, establishing "independent" committees to choose between the various private-sector providers competing for work.
In this way, it anticipates that costs will be driven down.
The total impact of these changes will save taxpayers £137m a year on average, the government believes.
But the ad hoc committee on the draft Local Audit Bill, comprising MPs with expertise in the field, is worried that the actual savings will turn out to be much lower.
Once one-off savings like abandoning the inspection regime have been accounted for, savings will be as low as £2.4m per year, it says.
While larger local authorities with bigger budgets may find it easy to adapt to the changes, the committee is concerned that the 9,800 smaller bodies, including parish councils and internal drainage boards, which have been entitled to low-cost services from the Audit Commission, will struggle to cope.
The principle that those commissioning the auditors should be independent from those being audited has "guided public sector audit for the last 150 years", the committee adds.
The ad hoc committee heard from Lord Heseltine, the former Conservative Deputy Prime Minister, who has been watching with interest as members of his own party dismantle a part of his legacy that took a decade to build.
Making the case for the creation of the commission in 1982, he had told the Commons: "Because local authorities appoint their own auditors, audit is not seen to be obviously independent of local government."
By abandoning this principle, standards would slip, he suggested, since private sector providers of auditing services would "not want to get a reputation for being difficult".
The Audit Commission, which as a monopoly provider was immune from such concerns, counts the exposure of serious wrong-doing at Westminster Council - which had sold off council homes in a bid to boost Conservative election prospects - as among its finest moments.
'Centralised quango not necessary'
The committee alleges that the government has paid insufficient attention to how private-sector firms might perform in similarly difficult circumstances, for instance by failing to to make it clear who would pay for the additional work involved in exposing malpractice.
Many bodies would also struggle to recruit enough "independent" people to the panels to be charged with commissioning auditors, the committee suggested.
Ultimately, the committee concluded, the role of commissioning auditors would be best left to a centrally run organisation, much like the rump Audit Commission.
In response to the report, local government minister Brandon Lewis said: "It was necessary to replace the Audit Commission's centrally imposed, bureaucratic and costly audit and inspection regime with a more streamlined and transparent system that saves council tax payers money.
"These reforms will replace bureaucratic accountability with democratic accountability for local spending decisions. Our reforms will save £650 million of taxpayers' money over five years - and already local authorities are seeing audit fees savings of 40% from outsourcing.
"A centralised quango to procure auditors is not necessary when local authorities are perfectly capable of doing this for themselves and know their own requirements."
"The Government's transparency agenda, oversight by the National Audit Office, Financial Reporting Council and professional accountancy bodies will ensure rigorous high standards of auditing are maintained and that local authorities are held to account for the money they spend.
"The Government will consider the Select Committee's report before bringing forward its legislation. A formal response will be made in due course."