Francis Maude: Ministers sometimes left in the dark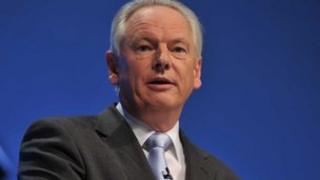 Ministers sometimes find civil servants working on things "that have nothing to do with what they've asked to be done", the minister in charge of reforming the civil service has revealed.
Francis Maude said the civil service needed to change and reform was "not happening quickly enough".
It follows reports of tensions between officials and ministers in delivering the government's agenda.
Unions said the civil service was "constantly reforming".
Last year, the government announced a shake-up of the civil service to make it operate more like a business, with a tougher appraisal system, increased accountability and a more entrepreneurial culture.
Since then there have been concerns that reform has been slow and top officials do not always implement ministerial decisions, sometimes blocking agreed government policy.
'Fitter and stronger'
Former Downing Street adviser Steve Hilton, now lecturing at Stanford University, reportedly told his US students that British "bureaucracy masters the politicians" and that No 10 often learned from the media about things they did not know government was doing - and often did not even agree with.
Mr Maude, charged with implementing the reform plan, told BBC Radio 4's Today programme: "All ministers will occasionally find things going on that have nothing to do with what they've asked to be done and that needs to change, particularly because there are fewer resources.
"There are fewer civil servants so they need to be deployed on what are the government's priorities.
"That should go without saying, but it needs to be said."
He said progress was not being made at the pace he wanted, but insisted civil servants themselves also wanted to see change.
"What we want the civil service to be like is less bureaucratic and actually it is civil servants themselves who complain most about the civil service being too bureaucratic.
He added: "The current leadership of the civil service are beginning to address things that have been unaddressed for too long.
"This is not be between minister and civil servants. This is between the old and the new and we need a new civil service which is faster, fitter and stronger."
'Inevitable tension'
He praised the majority of civil servants for doing "a fabulous job", but added: "There are a lot of weaknesses, which are persistent and which have been unaddressed for too long."
Dave Penman, general secretary of the FDA union which represents around 18,000 civil servants, defended the civil service, saying it had succeeded in delivering substantial savings in line with the government's priorities at the same time as delivering its "radical" reform agenda.
Tensions between ministers and their officials were "inevitable", he said, but this improved the policy making process.
"If you talk to civil servants, they would not feel necessarily that they need more reform, but maybe a bit less," he said.
"Each government comes in, looks to reform the civil service and has its own frustrations, but the public services, like most big corporations, are constantly evolving, constantly changing and constantly reforming.
"The reality is the civil service is there to give impartial advice to ministers. Sometimes ministers don't like that advice, but that is what makes good government. If a minister simply surrounds themselves with people who believe, rather than people who do, then that makes for poor policy."