Watchdog identifies 'risks' of private infrastructure funding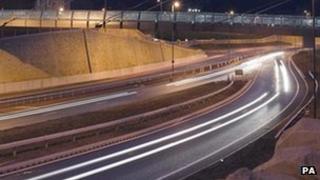 Taxpayers risk "substantial losses" as a consequence of coalition policy on funding new infrastructure, the National Audit Office has warned.
The government is offering to underwrite private investment in major road, rail and energy schemes.
But the spending watchdog warned this could increase the burden on the public as consumers rather than taxpayers.
It urged ministers to be "realistic" about the prospect of costly overruns if the projects do not run smoothly.
The Treasury has projected that £310bn will be spent on current and planned energy, rail, roads, water, waste, flood defences and digital communications projects.
It predicts that 64% of that funding will come from private companies.
'Over-optimistic'
In a report on the coalition's infrastructure plans, the National Audit Office said that reducing reliance on state funding could "increase bills for consumers and increase pressure on household finances".
This could lead to "unplanned taxpayer support" for people in hardship, it added.
It called on the government and regulators to clarify the financial impact on consumers of the infrastructure plans.
The watchdog also warned that the government's calculation of the extent of the UK's need for infrastructure investment might be inaccurate.
Its report highlighted poor forecasting about passenger demand for the Channel Tunnel Rail Link, which had "proved over-optimistic".
Actual passenger numbers between 2007 to 2011 had been about one-third of the level expected initially, and the financing scheme for this project had turned out to be "not sustainable", the report said.
'Exasperated'
National Audit Office chief Amyas Morse said: "Economic infrastructure keeps the country running. Demand for infrastructure is set to increase, fuelled by population growth, technological progress, climate change and congestion.
"But there is a lot at stake in taking forward the national infrastructure plan in an environment of straitened resources, with real risks to value for money and uncertainty about the sustainability of piling costs on to consumers."
"Work is already in hand to drive down the costs of delivering new infrastructure and this should continue."
Commons Public Accounts Committee chair and Labour MP Margaret Hodge said: "The government's indecision over infrastructure policy deters investors who seek certainty in exchange for long-term financial commitments.
"A shift towards relying on private investment will inevitably see consumers picking up the tab through higher energy and water bills, internet charges and train fares.
"Consumers will be exasperated to hear that the government has not even made the effort to assess the future impact this will have on their already hard-pressed household budgets."
But the government believes its UK Guarantees scheme will help kick-start projects which have stalled due to problems raising funds.
A Treasury spokesman said the government was "on track to reduce the cost of infrastructure delivery by £2-3bn, which will save consumers money, as well as making services more affordable across sectors including the energy market reforms and rail sector reforms".
Projects approved under the scheme need to meet criteria, including being able to begin work within 12 months, and demonstrate that they will boost economic growth and provide good value for taxpayers.