Journalists should trust politicians more, says former Cameron adviser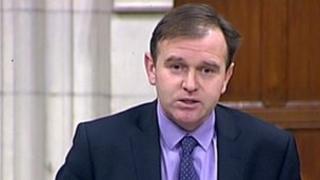 Public trust in politicians is being undermined by journalists refusing to give them credit for saying what "they actually believe", a former press secretary to David Cameron has said.
Conservative MP George Eustice also argued that the role of political parties was under-appreciated.
In a parliamentary debate, he called for party political broadcasts to be allowed on air more frequently.
Strict rules currently limit the length and frequency of such broadcasts.
The MP for Camborne and Redruth used a debate in Westminster Hall, the House of Commons' secondary debating chamber, to highlight the difficulties that he believes political parties are having communicating with voters.
'Prism of strategy'
He argued it was "right" to press ahead with reforms to the rules on party funding, but said "we have to accept that it restricts the ability of political parties to communicate directly with the electorate".
"The truth is that no democracy can work without political parties, making their case, having robust arguments with one another," he said.
The current broadcasting rules meant that broadcasters had too much power, he suggested.
The rules have also helped to create a particular type of journalism, he said, in which broadcasters "try and interpret - put a gloss - on what a party leader is supposedly saying.
"That has led to, I think, an over-emphasis on process, on political strategy, rather than actually giving politicians the credit for doing what they do do most of the time, which is to say what it is that they actually believe.
"I lost count of the number of times, when I worked for the leader of the opposition, that we would give a speech because this is something that he actually felt strongly and believed, only to see it then interpreted as a pitch to women voters, a pitch to get the youth vote, trying to appease core voters, always seen through the prism of political strategy."
This "undermines public trust in the political process, in my view unnecessarily", he continued.
'Stay tuned'
Mr Eustice also accused broadcasters of imposing "very hostile interview scenarios, where you almost have a duel between the interviewer and the politician, where the objective from the programme's point of view is to make the politician look evasive and on the back foot".
One way to boost public engagement in the democratic process would be to increase the frequency but decrease the length of party political broadcasts, he told MPs.
Current rules mean that bigger parties are offered three slots for broadcast on major TV channels in the run-up to each general election.
Parties can choose whether to transmit 2'40", 3'40" or 4'40" of material.
But Mr Eustice argued that they should be given more "flexibility", perhaps transmitting as little as one minute at a time - or "a mixture of some longer broadcasts and some shorter ones".
"The advantage of this is that it would increase public engagement and increase the chance that the public would actually see some of these broadcasts, and also increase the chance that they might actually stay tuned to them long enough to receive the message."
Replying to the debate, Culture Minister Ed Vaizey said new local TV channels would help to get MPs' messages across to constituents.
But he also described Mr Eustice's arguments for greater flexibility on the length of national broadcasts as "persuasive".