Nick Clegg warning to PM over EU referendum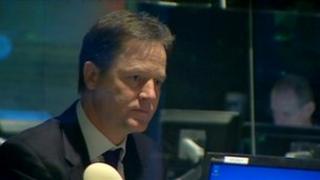 Nick Clegg has warned David Cameron that it would be "unwise" to create "a prolonged period of uncertainty" over Britain's relationship with Europe.
Mr Cameron will make a speech on Friday in which he is expected to announce plans for a future referendum on the UK's relationship with the EU.
Mr Clegg said legislation was already in place for a referendum if more powers were transferred to Brussels.
Any additional uncertainty could have a "chilling effect" on jobs, he said.
Downing Street rejected the warning, saying that a debate on the future of the EU was already under way and it was "in the national interest to take the lead".
No 10 added that the PM would brief Conservative cabinet ministers on Wednesday about his speech and would be speaking to fellow EU leaders.
The prime minister has faced pressure to hold a referendum on Europe and has been criticised by some in his own party for not doing more to get powers back from the EU to the UK.
But others have warned that the uncertainty caused by the prospect of a future referendum would jeopardise the UK's business prospects.
Mr Clegg told BBC Radio 4's Today programme that it was currently unclear exactly how Europe would change following the eurozone crisis.
"The eurozone is changing. That is obvious. We do not know yet when that will manifest itself in a new treaty and we don't know if that new treaty... does become a reality whether that will ask new things of the United Kingdom," he said.
"All I am saying is we should be very careful at a time when the British economy is still haltingly recovering from the worst economic shock in a generation to create a very high degree and prolonged period of uncertainty because, in my view, uncertainty is the enemy of growth and jobs."
He said that "our priority in this government and our priority in the national duty" was to get growth and jobs in the UK and any unnecessary uncertainty could "chase away" investment and threaten jobs.
Mr Clegg said it was important to reassure the British public that legislation was already in place to trigger a referendum if a new treaty led to a "significant transfer of powers" to Brussels.
But he warned: "I don't think it's wise to add to that with a degree of uncertainty which will have a chilling effect on jobs and growth."
David Cameron has said he wants the UK to remain within the EU, but says there is a need to redefine the relationship in light of moves towards further integration by countries using the single currency.
The deputy prime minister, who admitted he had not seen Mr Cameron's speech, said he expected the prime minister to link any renegotiation of Britain's relationship with Europe and a future referendum to a new treaty.
"Everyone is saying that when the treaty becomes a reality, that is when we have a question to answer," he said.
'Interference'
In response to Mr Clegg's comments, Communities Secretary Eric Pickles told the BBC the two parties had different views on Europe.
"The Liberal Democrats have always been very pro the EU - they are entitled to that view. We want to be on the side of the British people and to see some of the interference from Europe reduced," he said.
But former Belgian Prime Minister Guy Verhofstadt, who now sits as an MEP, said Britain was trying to have a "Europe a la carte" where it could "pick and choose" which parts of the union to sign up to.
Referring to comments made last week by a senior official in the US State Department, Mr Verhofstadt told the European Parliament: "I cannot understand the stupidity of a country with 53% of its exports going to Europe. It is so stupid even their best friends the US don't understand it."
He said any attempt to renegotiate Britain's membership could "kill the single market" and mean an end to the EU. Instead, a "common effort" was needed to establish a more integrated Europe.