Labour will 'end tax secrecy', Ed Miliband says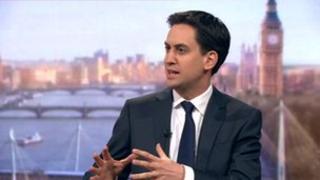 Ed Miliband says a Labour government would force companies to reveal how much corporation tax they pay.
Under the plans, multinational companies will have to publish one simple figure for the amount of corporation tax they pay in the UK.
This will make it harder for companies to avoid scrutiny Mr Miliband said.
David Cameron has said tax compliance and greater transparency were two of his priorities for the forthcoming G8 summit in Northern Ireland.
Mr Cameron said he hoped to "galvanise collective international action" on tax evasion at the summit in June.
Multinationals such as Starbucks, Google and Amazon have come under fire for paying little or no corporation tax despite generating UK sales of hundreds of millions of pounds.
Following a public outcry, Starbucks subsequently said it would pay "a significant amount" of extra tax in 2013 and 2014, possibly as much as £20m, "regardless of whether the company is profitable".
Speaking on the BBC's Andrew Marr Show, Mr Miliband said: "We've got to take action on tax avoidance in this country.
"We've got a situation where many British companies and many individuals are paying their fair share of tax and they look in horror at a system where some multinational companies from other countries can make huge profits in Britain and not pay taxes in Britain.
"This is scandalous. It's got to change; the next Labour government will change it. We'll end the tax secrecy because we can't have a situation where we don't know how much tax people are paying against how much profit they're making."
He said increased transparency would help the public judge whether companies were behaving in a responsible way.
As part of its policy review, Labour is undertaking a consultation on the whole system of corporation tax and will also examine how companies can distribute their profits internationally.