David Cameron has 'good relations' with civil servants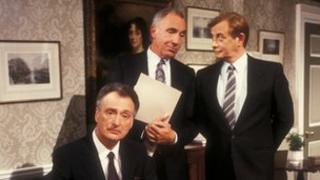 The PM has insisted he enjoys "good relations" with civil servants, after a former adviser highlighted problems with how British bureaucracy functions.
Mr Cameron said the civil service was a "great national asset" which was capable of "radical change".
But he acknowledged there was "an awful lot" of bureaucracy and red tape.
Steve Hilton, now lecturing at Stanford University, reportedly told his students that British "bureaucracy masters the politicians".
The Sunday Times quoted him as saying in a lecture: "I don't mean that in a hostile way, it's just a fact".
Last year, the government announced a shake-up of the civil service to make it operate more like a business, with a tougher appraisal system, increased accountability and a more entrepreneurial culture.
'Radical government'
However, since then the minister in charge of implementing the changes, Francis Maude, has admitted progress has been "mixed".
There have also been concerns that top officials do not always implement ministerial decisions and sometimes block agreed government policy.
Speaking on BBC Radio 4's Today programme, David Cameron said: "I have a good relationship with the civil servants I work with.
"I think Britain has a great national asset in the fact that we have a professional, impartial, very talented civil service and it's something we should be very proud of in our country and the people who work in the civil service should be very proud of what they do.
"I don't accept the argument that they are incapable of radical change. If you look at what this government is doing, it's a very radical government," he added.
He praised the work of officials and said the planned reforms were moving forward.
"In the end, if you have ministers who have clear view of what they want to change in Britain then you are capable of delivering it with our civil service," he added.
However, Mr Cameron did back some of the comments made by Steve Hilton, who left Downing Street for a sabbatical in the US after reportedly becoming frustrated at life in government.
"He's right to say there is an awful lot of bureaucracy and red tape and quangocracy... that part of what he says is absolutely right," Mr Cameron said.
"But in terms of, if you have a government with a clear vision, with a radical heart, can you get things done and changed in Britain? My answer is yes, you can."
'Red herrings'
Mr Hilton was seen as a driving force behind the modernisation of the Conservative Party under Mr Cameron's leadership.
Asked about the satirical comedy Yes Minister, in which civil servants famously sought to thwart government plans, Mr Cameron admitted there were "elements of truth" in it but dismissed "some of the characterisations in the papers".
A former Downing Street special adviser Sean Worth told BBC Radio 4's World at One programme that he had found during his time in the job that some civil servants were guilty of "game-playing".
"The civil service is perfectly good at process knowledge, policy knowledge; it's not that good at adapting to change, and delivering change," he said.
"If civil servants clearly don't want to do something, especially if it involves cutting their numbers or changing the way something is delivered, i.e. not by them, of course they will resist it.
"There are various ploys that can be used in order to do that, such as not answering questions that are posed to them, not doing policy work properly, throwing up red herrings."
But Sir David Bell, a former head of the Department for Education, said: "I'm just concerned that sometimes ministers use their own weaknesses as a cover for attacking the civil service.
"I've worked with very effective ministers. If they know their own mind, if they know what they want to do, they get on with it and do it: they don't make excuses."