David Cameron to make key Europe speech on Friday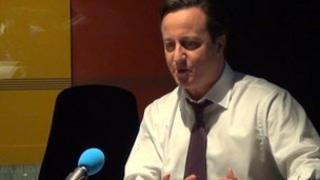 David Cameron's long-awaited speech on the UK and Europe will take place on Friday.
He is expected to announce plans for a future referendum on Britain's relationship with the EU.
The prime minister told BBC Radio 4's Today that he wants a "fresh settlement" with Europe and would then seek "consent" from Britons.
Downing Street said the speech, which had been expected before Christmas, would be delivered in the Netherlands.
During the visit, Mr Cameron will meet Dutch Prime Minister Mark Rutte for talks, although Mr Rutte is not expected to be present at the speech.
The audience will be made up of business people, EU diplomats and other interested parties, Downing Street said.
The prime minister's official spokesman said the Netherlands was an "entirely appropriate" location for the speech because it was a founding member of the EU and, like the UK, had a "strong tradition of global trade".
"The prime minister wants to set out his views on the future of the European Union, how it needs to develop and how Britain's relationship with it needs to develop," he said.
The spokesman declined to say whether Mr Cameron thought the Dutch prime minister would back his stance, saying: "It is for the Dutch government to set out their views."
The prime minister has faced pressure to hold a referendum on Europe and has been criticised by some in his own party for not doing more to get powers back from the EU to the UK.
'Lead the debate'
But others, such as pro-European Tory peer Lord Heseltine, have warned that the uncertainty caused by the prospect of a future referendum would jeopardise the UK's business prospects.
Labour described Mr Cameron's Europe policy as a "shambles".
During his radio interview, the prime minister told the BBC he wanted the UK to remain within the EU, but said there was a need to redefine the relationship in light of moves towards further integration by countries using the single currency.
"Europe is changing and the opportunity for us to lead those changes and make changes that will make our relationship with Europe more comfortable, I think, are absolutely there.
"I am confident we can do that - a fresh settlement and then fresh consent for that settlement," he said.
He declined to say whether he will promise a referendum in the speech, only that consent for any new settlement will be sought in a "straightforward way".
Lord Heseltine and a series of leaders of large British businesses have said the uncertainty caused by the idea of a future referendum which could lead to the UK's exit from the EU, put at risk Britain's relationship with Europe and could cause problems for British business.
But the PM said the EU was already in the process of change because of the recent euro area crisis: "This debate is happening anyway."
"You have a choice as politicians - do you get out there, lead that debate and make the changes that will be right for Britain - and I would argue right for Europe - and then give people a choice about that, or do you stick you head in the sand and hope the debate will go away?"
He insisted it was not in Britain's interest to leave the European Union.
"Would Britain collapse if we left the European Union? No, of course not. You could choose a different path. The question is, what is in our national interest?
"I've always been very clear it's in our national interest as a trading nation to be in the single market," he said.
'Sleepwalking'
Downing Street said Mr Cameron would be holding talks with EU counterparts ahead of his speech, and had spoken to the German and Dutch leaders at the weekend.
Shadow foreign secretary Douglas Alexander accused the prime minister of not being in control of the agenda or of his own party.
"When it comes to David Cameron's speech on Europe, he can't seem to decide on a date, let alone a policy. It's not so much a Number 10 strategy as a Number 10 shambles," Mr Alexander said.
"It seems that David Cameron has now been forced to bring forward his speech for the same reason that is was originally delayed - the opposition he faces from within his own party, as well as from Britain's allies and British business has simply overwhelmed him."
Joaquin Almunia, vice president of the European Commission and competition commissioner, warned that it would be a "disaster" for the UK if it withdrew from the EU.
He told the BBC's Hardtalk programme that renegotiating the UK's terms of membership would be "extremely difficult" and could undermine Britain's influence.