Steve Hilton 'says bureaucracy masters the politicians'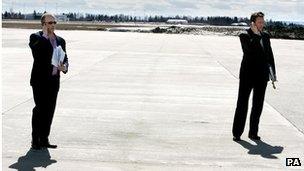 Steve Hilton, David Cameron's former "blue skies thinker", has reportedly told his US students that British "bureaucracy masters the politicians".
The Sunday Times quotes him as saying in a lecture: "I don't mean that in a hostile way, it's just a fact".
He said No 10 often learned from the media about things they did not know government was doing - and often did not even agree with.
Mr Hilton is lecturing at Stanford University on innovation in government.
His course considers "What are the barriers to reform and innovative thinking in government? What are the factors that need to be taken into account when implementing change? What are the bureaucratic structures and power relationships that policy-makers must understand and navigate in order to embed reform?"
Mr Hilton, who was seen as a driving force behind the modernisation of the Conservative Party under Mr Cameron's leadership, left Downing Street for a sabbatical in the US after reportedly becoming frustrated at life in government.
The Sunday Times reports Mr Hilton as telling students at the California university: "Very often you'll wake up in the morning and hear on the radio or the news or see something in the newspapers about something the government is doing.
"And you think, 'Well, hang on a second - it's not just that we didn't know it was happening, but we don't even agree with it!' The Government can be doing things... and we don't agree with it? How can that be?"
He said 40% of government work was related to implementing EU regulations, and 30% related to "random things... which were not anything to do with the coalition agreement".
'Paper-shufflers in control'
"In other words, only 30% of what the Government is doing is actually delivering what we're supposed to be doing. It just shows you the scale of what you're up against... when I found that out, that was pretty horrific," he is reported to have said.
He said paperwork associated with everyday decisions was "impossible" for ministers to wade through, so many are nodded through.
"There's all sorts of things, and they can be quite trivial things but they can be quite serious as well, and they can certainly affect the real world," the Sunday Times quotes Mr Hilton as saying.
"When you start thinking about how things get decided, it's pretty incredible... it's a brilliant system for paper-shuffling people to be in control.
"The bureaucracy masters the politicians. I don't mean that in a hostile way - it's just a fact."
Mr Hilton left the UK in May for the US, where his wife, Rachel Whetstone, is a Google executive.
He is on temporary leave from Downing Street, although it is not known when he is likely to return.
When his departure was announced, the BBC's political editor Nick Robinson said it would mean the prime minister was losing a friend who was willing to challenge him for not being clear enough nor impatient enough about how he wanted to change the country.