Nick Clegg: 'I will stand again in 2015'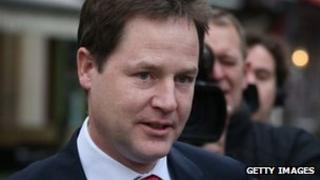 Deputy Prime Minister Nick Clegg has confirmed that he will stand again for Parliament at the next election.
He told BBC Radio Sheffield he did not "relish" some of the decisions the coalition had had to make to reduce the budget deficit.
But he attacked Labour for allowing the banking sector to get away with "blue murder" while in power.
He said he expected to remain MP for Sheffield Hallam and Liberal Democrat leader after the election in 2015.
Asked if he would be standing again in his Yorkshire seat, which has a large number of students, he replied: "Of course."
'Heart attack'
During his radio interview, he attacked Labour's record in government and defended cuts made by the coalition.
"Of course no one likes making savings and cuts," he said. "I don't relish any of the decisions we have to take in central government, but the fact is I am in government and we're all living at a time when we're recovering from the worst economic heart attack in a generation."
He accused Ed Balls, a former adviser to Gordon Brown and now shadow chancellor, of "sucking up" to the banks and letting them get away with "blue murder" during Labour's time in power.
"The party that was largely responsible for the mess - and has never ever apologised for their responsibility in creating the mess in the first place - now blame every single difficult decision on people other than themselves."
The next general election has been earmarked for May 2015.
Speaking later in a visit to Penzance in Cornwall, Mr Clegg said the Lib Dems were "the only party" pledging to build a robust economy and make society fairer - something he said his party's coalition partners and the opposition lacked.
"I can't predict the outcome of the next general election. I so happen to think that the Liberal Democrats now are the only party offering two things: firstly a commitment to building a stronger economy; and doing that in a fairer society, enabling everyone to get on in life," he said.
Asked about his own future - and to predict his role in politics following the next general election - Mr Clegg said: "I will be MP for Sheffield Hallam and leader of the Liberal Democrats."