Political row over councillors' pay after report by MPs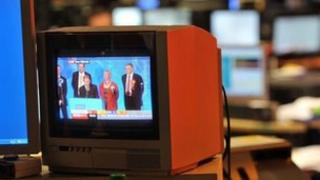 Low pay is deterring many people who are thinking of becoming a local councillor, a report by MPs has said.
The Local Government Select Committee said councillors had a right to expect an "appropriate level of compensation".
Committee chairman, Labour's Clive Betts, said the young especially should be encouraged to take a local role.
Labour rejected Tory chairman Grant Shapps' claim it was in their interests because its councillors pass on some of their payments to the party.
The Communities and Local Government Select Committee said councils in England should have the ability to transfer responsibility for setting allowances to an independent local body.
Average age
The report said many younger people were reluctant to stand in local elections, with the average age of a councillor at about 60.
Councillors are not paid a formal salary but they are given allowances to compensate them for their time spent on council business.
The amount varies from a couple of thousand pounds a year to £20,000 or more.
The report did not call directly for higher pay but said the level of compensation should be "appropriate".
It said allowing independent local bodies rather than councils to set allowances would encourage a more diverse range of candidates.
The committee also noted that while potential councillors were put off from standing for office by low allowances, current representatives were reluctant to vote for increases because of the potential for public backlash.
This could be addressed by taking the responsibility for these decisions away from councils, the MPs said.
The recommendation to raise local councillors' allowances was not opposed by either of the Tory members present, Heather Wheeler and Mark Pawsey.
Mr Betts said local authorities should "popularise the idea of becoming a councillor - especially among young people".
'Cynical and sleazy'
Mr Shapps said Labour was pushing for higher pay because its councillors donated some of their allowance to the party.
He said: "This is a cynical and sleazy move by the Labour Party, given their party rules dock the taxpayer-funded allowances of Labour Party councillors.
"Local taxpayers will be shocked to learn that the Labour Party will be quids in from Labour demands for more taxpayers' money on councillor allowances."
And Local Government Minister Brandon Lewis accused Labour members of failing to "declare their financial interest" in moves to raise payments.
But the Labour Party rejected Mr Shapps' claims, calling it a "massive own goal".
A spokesman said: "The proposal is not Labour Party policy, it is a recommendation by a cross-party committee with a Government majority that councils ask an independent body to set councillor allowances in future.
"Unless he is instructing all Tory councils and Tory councillors not to take an increase in allowances, then his words are just meaningless posturing."
Elsewhere in the report it said other issues facing local councillors included an increasing workload and difficulties in getting the time needed off work.
Mr Betts said: "Few councillors will vote themselves higher allowances, even if there is a legitimate reason for doing so, because it provokes so much public controversy.
"Councils should be given the power to transfer decisions about allowances to independent local bodies.
"It would be inconsistent for Parliament to deny councils the option it has chosen for the determination of its own pay and conditions."