Labour '100% confident' of winning majority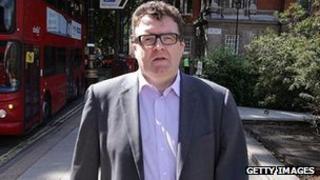 Labour is "100% confident" of winning a majority, its general election chief has said, as he set out plans for a 60-seat majority at the next election.
MP Tom Watson said the "realistic" plans would include focusing on 106 key marginal seats.
The party will use Arnie Graf, a US community organising expert who helped train Barack Obama, to train 1,000 local campaigners.
Mr Watson said his party was determined to be a "one-term opposition".
"This is a challenge, but one we are all going to work hard to achieve," he added.
Asked if he was confident of winning, Mr Watson said: "Yes, 100%. I would not be presenting this if I did not think it was realistic."
Lib Dems targeted
Under the election blueprint Labour expects all of its 255 MPs to hold their seats.
It will go on the "offensive" and target 86 Conservatives seats, 16 Liberal Democrats seats, two Plaid Cymru seats and the SNP's Dundee East.
The party is also looking to unseat the Green Party's only MP Caroline Lucas, who was first elected in 2010 in Brighton Pavilion.
But Labour's most ambitious targets involve unseating Lib Dem MPs, suggesting the party expects to attract disaffected Lib Dem voters who are unhappy with the coalition.
It is planning to eject the party's deputy leader Simon Hughes from his London seat of Bermondsey and Old Southwark - a seat he has held for 30 years in which Labour needs a swing of 9.6%.
Other Lib Dem MPs with large majorities in Labour's sights include Julian Huppert in Cambridge, Stephen Williams in Bristol West and Greg Mulholland in Leeds North West.
"I want these seats to provide focus for the party, a shared plan behind which we can unite," Mr Watson said.
Only 30 candidates have so far been selected in the target seats but the process is expected to be completed by the summer.
In addition Labour will concentrate funds on training US-style community organisers to campaign on the ground and use social media in target areas in a bid to emulate President Obama's electoral success.
Mr Watson said the list of battlegrounds did not include every seat the party would target at the next election and it would be reviewed to take account of opinion polls, elections results and campaign activity on the ground.
The Conservative strategy for the next election involves defending its 40 most marginal seats, whilst also targeting the 40 seats held by other parties which the party thinks are most winnable. This will include 20 seats held by the Lib Dems.
Conservative Party chairman Grant Shapps told the BBC's Sunday Politics in November that targeting these seat would be "very important" for the party as would engaging in "pavement politics" in local communities.
The Liberal Democrats are expected to focus their resources on defending the 57 seats they currently hold, in the face of falling poll ratings since the coalition was formed.