Green Party cares about all issues, says leader Natalie Bennett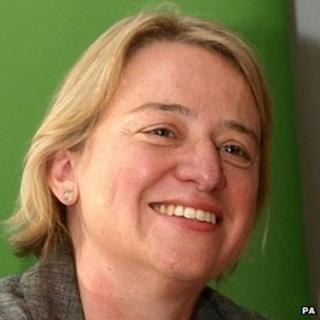 The Green Party is "interested in every single issue in Britain", its leader has told the BBC.
Natalie Bennett said she wanted to create a "better society", with policies such as renationalising the railways and tighter controls on banks.
The party, which has an MP, was looking to win in more places, she said.
She became leader of the Green Party of England and Wales in September, beating three other candidates to succeed Caroline Lucas.
The Australian-born former journalist told BBC Radio 4's Today programme she was urging the government and businesses to follow three New Year's resolutions: to extend charges for plastic bags to England; to get commercial premises to turn lights off at night; and to impose 20mph speed limits on roads in areas where people "work and shop".
The Greens, often seen as a single-issue environmentalist party, wanted to go beyond this agenda to "entirely reshape the British economy", she added.
'Limits'
Ms Bennett argued that more manufacturing and food production had to take place in the UK to cut the transport of goods around the world, while the railways had to be renationalised and the minimum wage had to be a "living wage".
She added: "We need to reshape our financial institutions very thoroughly to make sure that they serve the needs of the real economy, not casino-type gambling."
Ms Bennett also said: "Huge numbers of people aren't sure where the money for the next day's lunch is coming from, or the money for their next mortgage payment.
"It's a question of whether we are creating a better society."
She added: "Although we have 'Green' in our title, we are interested in every single issue in Britain."
The Greens have recently seen support squeezed in opinion polls while the UK Independence Party has seen its share in opinion polls rise.
Ms Bennett was asked if she was disappointed that the Greens might increasingly not be the first choice for "none of the above" voters.
She replied: "What we are looking for is people who want to vote for the politics we are standing up for. Around the country [on councils], we are delivering.
"We will take the protest vote very happily, but people will see we should have a society that's much fairer and more equal."