West Coast rail: MPs not 'deliberately misled'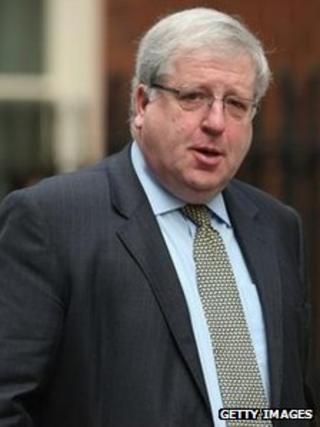 Civil servants did not "deliberately" mislead ministers during a bidding process to run the West Coast mainline, the transport secretary has told MPs.
Patrick McLoughlin said lessons had been learned from mistakes made during the franchise competition.
But he added the civil servants had not applied "proper workmanship" during the scrutiny process.
FirstGroup was awarded the contract for the 13-year rail franchise ahead of Virgin, but it was abandoned last year.
Investigations found a "damning failure" by staff at the Department for Transport (DfT) led to ministers - who had not been told about flaws in the bidding process - awarding the contract based on inaccurate reports.
The mistakes came to light after rival bidder Virgin Trains, which has run the West Coast Main Line since 1997, launched a legal challenge against the decision.
Mr McLoughlin faced questions on Monday from the House of Commons transport committee, chaired by Louise Ellman.
When asked whether ministers had been "deliberately misled" by civil servants, Mr McLoughlin replied: "I don't think they were deliberately misled.
"The matter did not involve the proper workmanship you would expect from civil servants. Most of them thought they were acting in good faith, but they were not."
The transport secretary then praised the work done by his DfT staff, saying he had a team of "first-class civil servants doing a tough job".
Mr McLoughlin also revealed the cost of the failed process and future compensation payments for the bidders was approaching £45m and could rise further.
He added that he expected to publish the Brown report - the second of two external investigations - within the next few days. The report is investigating what implications the West Coast debacle has for the future franchising programme.
Other franchising competitions, including for Essex Thameside, Great Western and Thameslink, are currently suspended.
Virgin will continue to run rail services along the West Coast mainline until November 2014.