NHS budget squeeze: PM gives new commitment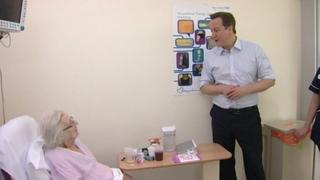 Prime ministers can often find that complex problems have a habit of returning to cause political difficulties, especially so early in a new year.
It was no coincidence that David Cameron chose the impressive Royal Derby Hospital to unveil his latest NHS initiative.
This prime minister has always said that his stewardship of the NHS would be an acid test of his premiership.
"I am absolutely committed to the NHS. It will always remain a free health service while I am Prime Minister," he told me during his visit to the Royal Derby.
But last year, there was a succession of allegations of mistreatment and neglect of elderly patients in some Midlands hospitals.
So at Derby, the Prime Minister offered one solution. It's a hospital-style "Trip Advisor", the on-line consumer feedback site that's empowered the tourist when choosing which hotel to book.
The NHS scheme was piloted at the Royal Derby and gets its national roll-out in the spring. The idea is that feedback from patients and their families will sharpen performance in hospitals not quite up to scratch.
David Cameron was keen to get one step ahead on NHS concerns. Little wonder. The findings into the scandal at Stafford Hospital are due.
It'll make tough reading. It'll highlight serious ill treatment of patients and a widespread medical cover-up.
The politics will centre on whether the scandal at Stafford was a localised issue or the effect of wider NHS budget pressures.
That gets us back to the Royal Derby. Officially opened two years ago, it's a showcase PFI hospital.
That means construction and many of its basic building services are funded through private finance, with repayments - like a mortgage - spread over a generation.
The hospital costs £440m to run annually. Its 8,000 staff help look after a million patients a year. But budgets are being squeezed.
"We're already to had to take £23m out of our annual budget," Sue James, chief executive of Derby Hospitals NHS Foundation Trust, told me.
"It's not easy finding savings on that scale. But we've been able to do so through some smart thinking, while remaining focused on the people who need our care."
But I highlighted with the Prime Minister the cash difficulties of another showcase PFI hospital nearby. It's the King's Mill at Sutton-in-Ashfield in Nottinghamshire.
Like the Royal Derby, the new King's Mill sparkles ...the glass and steel design symbolise a modern 21st Century NHS.
But King's Mill is in serious financial difficulties. At one stage last year, it was £6m in debt and in danger of going bust.
The findings of a highly critical report resulted in sweeping management changes; in effect, the hospital is now in special measures.
Political headache
So could Kings Mill become the first PFI hospital to go the way of Hinchingbrooke Hospital in Cambridgeshire, and be privately run for the NHS?
"The health regulator Monitor is keeping a close eye at the situation there at King's Mill and we will ensure that everything can be done to sort it out," said the Prime Minister.
King's Mill could become a real political headache. The same NHS trust also runs Newark Hospital, which also has an uncertain future. Its accident and emergency unit has been scaled back, causing a huge row locally.
Newark is represented in Parliament by the Conservatives' Patrick Mercer and he must feel nervous whenever speculation mounts over the future of Newark Hospital. There's been a highly visible campaign by patients' groups to safeguard the hospital's future.
The Prime Minister's hospital "Trip Advisor" may find itself overloaded if Newark and King's Mills struggle because of budget pressures.
Patrick Mercer must also hope that the initiative doesn't backfire, and round on Tory MPs in marginal seats like him at the next election.